Indulge in Comfort Food: Chef John's Irish Pork Stew!
Looking for a hearty and comforting meal? Look no further than Chef John's Irish Pork Stew! Made with succulent cubes of pork shoulder, tender root vegetables, and seasoned with classic Irish herbs, this recipe is the ultimate comfort food for any occasion. The flavors deepen as the dish simmers slowly on the stove, resulting in a rich and savory stew that warms the soul. Serve with a generous hunk of crusty bread for the perfect meal that will leave you feeling satisfied and content. Chef John's Irish Pork Stew is the perfect dish for a cold day or a cozy evening in.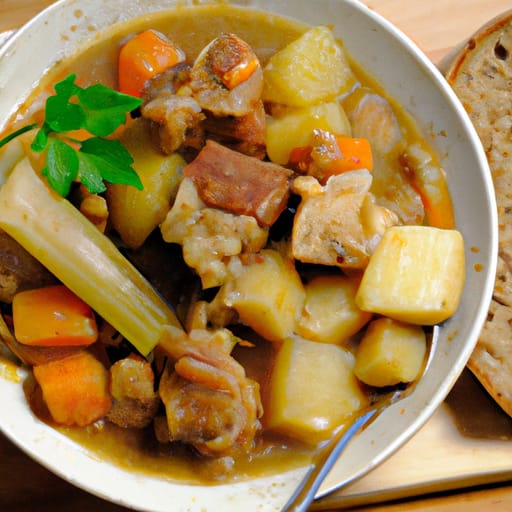 Ingredients
2 Pounds Pork Shoulder
Salt
Black pepper
3 Tbsp Butter
2 Cups Onion, chopped
4 Cloves of Garlic, minced
1/4 Cup All-purpose flour
1 Tbsp Tomato paste
1 Pint of Irish Stout
2 Cups Chicken broth
3 Carrots, diced
2 Stalks of Celery, diced
1 Bay leaf
1 Tbsp Fresh thyme leaves
1/2 Tsp Smoked paprika
1/2 Tsp Dried basil
1/4 Tsp Cayenne pepper
3 Medium Potatoes, diced
2 Tbsp Chopped fresh parsley (Optional, for garnish)
Instructions
Preheat a large Dutch oven over medium-high heat.
Season the pork shoulder generously with salt and black pepper.
Melt the butter in the Dutch oven. Add the pork shoulder and cook, turning occasionally, until browned on all sides.
Transfer the pork shoulder to a plate and set aside.
Add the onion and garlic to the Dutch oven and sauté until soft, about 5 minutes.
Add the flour and tomato paste and cook, stirring constantly, for 2-3 minutes.
Slowly pour in the Irish stout, stirring constantly to scrape up any browned bits on the bottom of the pot.
Add the chicken broth, carrots, celery, bay leaf, thyme leaves, smoked paprika, dried basil, and cayenne pepper. Stir to combine.
Return the browned pork shoulder to the pot and bring the stew to a simmer.
Reduce the heat to low and cover with a lid. Simmer for 1 hour, stirring occasionally.
Add the diced potatoes to the pot and stir to combine.
Cover and continue to simmer until the potatoes are tender and the pork is very tender, about 30-45 minutes.
Remove the bay leaf and discard.
Taste the stew and adjust the seasoning as necessary.
Ladle the stew into bowls and garnish with chopped fresh parsley, if desired.
Serve hot and enjoy!
Number of Servings:
Nutritional Information (per serving):
Calories: 415
Total Fat: 19g

Saturated Fat: 7g
Unsaturated Fat: 11g
Trans Fat: 0g

Cholesterol: 114mg
Sodium: 633mg
Total Carbohydrates: 22g

Dietary Fiber: 3g
Total Sugars: 5g
Added Sugars: 0g

Protein: 37g
Ask the Chef – Tips & Tricks
Cut meat into small chunks:
Cutting the pork shoulder into small pieces before seasoning and cooking it not only saves time but ensures the meat cooks evenly.
Brown the meat:
Ensuring the pork is well browned before removing it from the pot adds significant flavor depth to the stew. Don't be tempted to skip this step.
Use high-quality beer:
To make the best pork stew, use high-quality Irish stout, such as Guinness. This adds a rich, malty flavor to the stew.
Add the potatoes later:
Add the diced potatoes later in the cooking process to avoid overcooking them. Overcooked potatoes will break down and make the stew too starchy.
Low heat:
This stew is designed to cook low and slow. Cooking it for an extended period on low heat allows the flavors to meld and become more pronounced.
Adjust seasoning:
Seasoning is a crucial part of the stew-making process. Taste towards the end of cooking and adjust with salt and pepper as needed.
Garnish with parsley:
Adding fresh chopped parsley not only adds a great pop of color but brings a bright freshness to the dish.