Delicious Baricole – The Classic Italian Beef Roll
Baricole, also known as beef braciole, is a classic Italian dish that is sure to delight. This hearty beef roll stuffed with herbs, spices, and cheese is a delicious and satisfying comfort food that is perfect for any time of year.
The History of Baricole
Baricole can be traced back to a traditional Italian recipe that has been passed down through generations. It is a popular dish in southern Italy, and each family has its own unique spin on the recipe.
The name "braciole" comes from the Italian word for "rolls," but the origins of the word "baricole" are unclear. Some say it comes from the word "braciola," which means "meat cooked on hot coals."
The Perfect Comfort Food
Baricole is the perfect comfort food. It is hearty and filling, and the flavors are warm and comforting. The beef roll is filled with a mixture of herbs, spices, and cheese, which creates a delicious and savory flavor that will make your taste buds sing.
Baricole is also a great dish to make for a crowd. It can be prepared ahead of time and then baked in the oven when you're ready to serve. And because it's a roll, it's easy to slice and serve, which makes it a great option for a dinner party.
A Versatile Dish
Baricole is a versatile dish that can be customized to fit your tastes. The filling can be made with a variety of herbs and spices, and different types of cheese can be added for a unique flavor.
You can also experiment with different types of meat, such as pork or chicken, for a variation on the classic beef roll. And if you're looking to make a vegetarian option, you can substitute the meat with tofu or eggplant.
A Classic Italian Dish
Baricole is a classic Italian dish that has been enjoyed by families for generations. It is a staple at Italian celebrations, such as weddings and holidays. And it's easy to see why – the delicious flavors and comforting texture make it a standout dish.
If you're looking for a classic Italian recipe that will impress your guests, or simply a comforting meal for a cozy night in, baricole is the perfect choice. With its rich history and delicious flavor, it's sure to become a family favorite for years to come.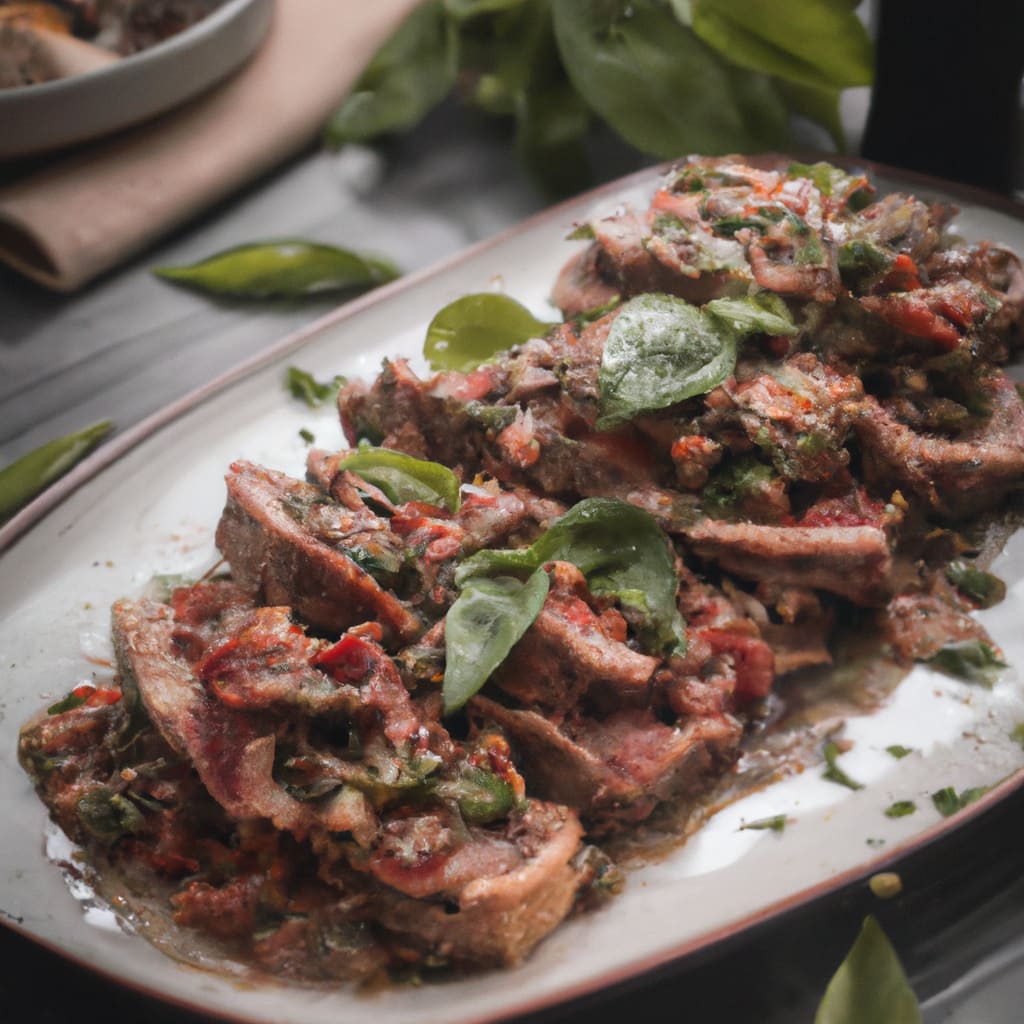 Ingredients
– 1.5 lb. flank steak
– 4 oz. sliced prosciutto
– 1 cup Italian seasoned breadcrumbs
– 1/2 cup grated Parmesan cheese
– 1/4 cup chopped fresh parsley
– 1/4 cup chopped fresh basil
– 1/4 cup chopped fresh oregano
– 3 garlic cloves, minced
– 1/3 cup extra-virgin olive oil
– Salt and freshly ground black pepper
– 3 cups marinara sauce
Instructions
1. Lay the flank steak flat on a work surface.
2. Cover the steak with prosciutto slices.
3. In a mixing bowl, combine the breadcrumbs, Parmesan cheese, parsley, basil, oregano, garlic, salt, pepper, and olive oil to form a paste.
4. Spread the mixture evenly over the prosciutto.
5. Roll up the steak tightly, and tie it with cooking twine at 1-inch intervals.
6. Heat the oven to 375°F.
7. Heat a large oven-safe Dutch oven over medium-high heat.
8. Add the stuffed flank steak to the Dutch oven and brown on all sides, about 2-3 minutes per side.
9. Pour the marinara sauce over the steak, making sure it is fully coated.
10. Cover the Dutch oven with a lid and bake in the preheated oven for 1.5-2 hours, or until the steak is tender and cooked through.
11. Remove the steak from the oven, and let it rest for 5-10 minutes before slicing.
12. Slice and serve hot with the marinara sauce and any additional side dishes you prefer. Enjoy!
Ask the Chef – Tips & Tricks
Prep and Tie:
Be sure to roll and tie the steak tightly with cooking twine to keep it from falling apart while cooking. Tie at 1-inch intervals to ensure the beef cooks evenly.
Browning:
Browning the steak on all sides before baking provides an extra layer of flavor and texture. Don't skip this step!
Dutch Oven:
Using a Dutch oven is recommended as it retains heat well and allows for even cooking. Make sure to choose an oven-safe Dutch oven or transfer the steak to an oven-safe dish before baking.
Sauce:
Use a high-quality marinara sauce for best results. If you have a homemade recipe, that is even better!
Baking time:
The baking time will vary depending on the thickness of the steak. Be sure to check the steak with a meat thermometer to ensure it reaches an internal temperature of 145°F before serving.
Slicing:
Be sure to let the steak rest before slicing to allow the juices to redistribute. Slice against the grain for best results – this will help keep the meat tender.
Serving:
Consider serving with a side of creamy polenta or mashed potatoes to soak up the delicious marinara sauce.