Taste Home Cooking with Our Best Homemade Meatloaf Recipe!
Get ready to indulge in the ultimate comfort food with our Best Homemade Meatloaf Recipe. Made with lean ground beef, breadcrumbs, eggs, and a plethora of flavorful seasonings, this classic dish is a delicious and budget-friendly way to feed your family. Topped with a rich, tangy ketchup glaze, the meatloaf emerges from the oven moist, tender, and bursting with savory goodness. It's the perfect centerpiece for a cozy dinner, and any leftovers make for fantastic sandwiches the next day. Treat your taste buds to the Best Homemade Meatloaf Recipe, and enjoy the taste of home cooking!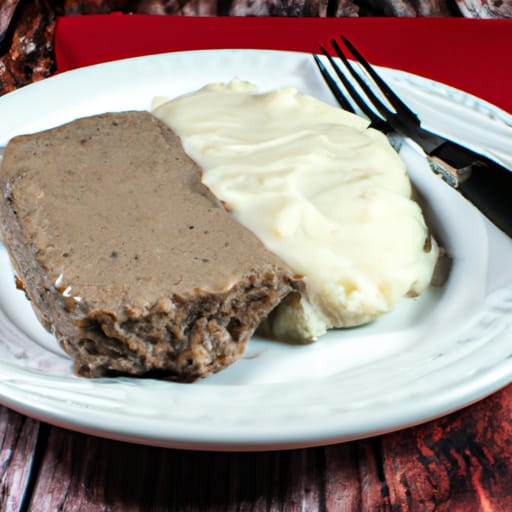 Ingredients
1 lb Ground Beef
1/4 Cup Onion, finely chopped
1/4 Cup Green Bell Pepper, chopped
1/2 Cup Bread Crumbs
1/4 Cup Milk
1 Egg
1 Tbsp Worcestershire Sauce
1 Tsp Salt
1/4 Tsp Black Pepper
1/4 Tsp Garlic Powder
1/4 Tsp Paprika
1/4 Cup Ketchup
Instructions
Preheat oven to 350 degrees Fahrenheit.
In a large mixing bowl, combine ground beef, onion, green bell pepper, bread crumbs, milk, egg, Worcestershire sauce, salt, black pepper, garlic powder, and paprika.
Mix until all ingredients are fully incorporated but avoid overmixing.
Place the mixture in a loaf pan and form to fit the pan, smoothing out the top.
Spread ketchup on top of the meatloaf.
Bake for around 50 minutes or until an instant-read thermometer reads 160 degrees Fahrenheit when inserted in the center of the loaf.
Remove from the oven and allow the meatloaf to rest for 10 minutes before slicing and serving.
Number of Servings
Nutritional Information (per serving)
Calories: 391
Total Fat: 21g

Saturated Fat: 8g
Unsaturated Fat: 10g
Trans Fat: 1g

Cholesterol: 134mg
Sodium: 969mg
Total Carbohydrates: 16g

Dietary Fiber: 1g
Total Sugars: 6g
Added Sugars: 0g

Protein: 34g
Ask the Chef – Tips & Tricks
Use High-Quality Ground Beef: For the best meatloaf, use high-quality ground beef that is approximately 85% lean and 15% fat. This will ensure that your meatloaf is tender and moist.
Avoid Overmixing: Overmixing the meat mixture can cause your meatloaf to become tough and dry. Mix all the ingredients until they are just combined, and no dry pockets of breadcrumbs are visible.
Shape Uniformly: For even cooking, shape the meatloaf uniformly, without any irregularities, and pack it tightly to help hold its shape.
Use a Meat Thermometer: Use a meat thermometer to check for doneness to avoid overcooking the meatloaf. Once the internal temperature reaches 160 degrees Fahrenheit, it is fully cooked and safe to eat.
Let It Rest: After baking, let the meatloaf rest for 10 minutes before slicing and serving. This resting period will allow the juices to redistribute throughout the meatloaf and make it more flavorful and tender.
Customize It: For a more flavorful meatloaf, you can add additional ingredients such as chopped herbs, shredded cheese, or minced garlic. Similarly, you can swap the ketchup topping with BBQ sauce or tomato sauce depending on your preference.
Mix-Ins: You can also add other meats to the recipe like pork sausage or turkey. Consider adding veggies like mushrooms, celery, or zucchini to the mixture to make it more nutritious.
Leftovers: Keep any leftover meatloaf stored in the fridge and reheated in the microwave or oven for the best results.