Start Your Day Right: Indulge in the Savory Goodness of Bill's Classic Sausage Gravy Recipe
Experience the savory indulgence of Bill's Classic Sausage Gravy Recipe. This hearty and flavorful dish is made from the perfect combination of ground sausage, creamy milk, savory seasonings, and a touch of black pepper, all simmered to a rich, thick gravy. Whether served over a warm, flaky biscuit, crispy hash browns, or a fluffy stack of pancakes, Bill's Classic Sausage Gravy Recipe is the ultimate comfort food that will leave your taste buds craving for more. Impress your family and friends with this Southern classic and start your day with a smile.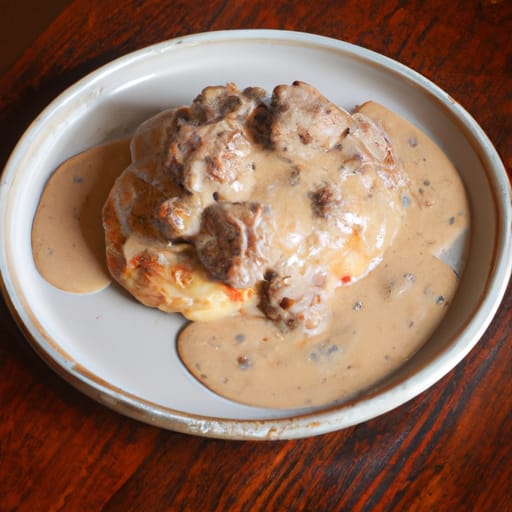 Ingredients
1 pound ground breakfast sausage
1/2 cup all-purpose flour
3 to 4 cups whole milk
1/2 teaspoon salt
1/4 teaspoon freshly ground black pepper
Instructions
Cook sausage in a large skillet over medium heat, breaking it into small pieces with a spatula until browned and fully cooked.
Reduce heat to low, add flour to the skillet and stir until well combined with the sausage grease to form a roux.
Gradually add milk to the skillet while constantly whisking until smooth.
Increase heat back to medium and continue to whisk until gravy reaches your desired thickness. It should take about 5-10 minutes.
Stir salt and pepper into the gravy mixture and let it cook for an additional minute.
Serve hot over biscuits or toast and enjoy Bill's Classic Sausage Gravy!
Number of Servings
Nutritional Information (per serving)
Calories: 500
Total Fat: 36g

Saturated Fat: 12g
Unsaturated Fat: 23g
Trans Fat: 0g

Cholesterol: 95mg
Sodium: 900mg
Total Carbohydrates: 21g

Dietary Fiber: 0g
Total Sugars: 9g
Added Sugars: 0g

Protein: 25g
Ask the Chef – Tips & Tricks
Use Jimmy Dean Sausage:
For the best flavor, use Jimmy Dean breakfast sausage in this recipe. It has just the right amount of seasoning and fat content to make your gravy taste delicious.
Low and Slow:
Cooking the sausage over low heat and breaking it into small pieces will help it cook evenly and retain moisture. This will produce a tastier and juicier gravy.
Patience is key:
Take your time when making the roux, cooking it over low heat and stirring constantly until it's well combined. This will help it thicken the gravy more efficiently without any lumps or burning.
Gradually Add Milk:
Adding milk gradually while whisking constantly is key to making a smooth, lump-free gravy. Be patient and take your time to ensure a silky consistency. If the gravy is too thick, add more milk a little bit at a time until you reach the desired thickness.
Don't Overcook:
Too much heat or cooking for too long can cause the gravy to break or separate. Avoid overheating the gravy, and keep whisking constantly to ensure it stays smooth and homogeneous.
Customize:
You can add a pinch of cayenne pepper or red pepper flakes to spice the gravy up a bit or add some fresh herbs like rosemary, thyme, and sage for added flavor. Also, you can adjust the thickness of the gravy according to your preference by adding less or more milk.