Cozy Up with Our Classic Beef Stew Recipe – Perfect for Chilly Nights!
Looking for a hearty and satisfying recipe to warm you up on a chilly day? Look no further than this classic beef stew recipe! Tender chunks of beef simmered with savory vegetables, herbs, and spices create a comforting and delicious meal that's perfect for any occasion. Whether you're curling up on the couch for movie night or hosting a dinner party with friends, this beef stew is sure to impress. So grab your favorite soup pot and get ready to savor the ultimate comfort food classic!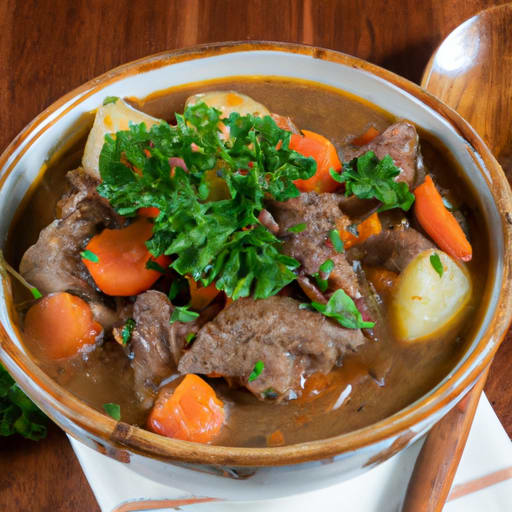 Ingredients
2 lbs. Beef Stew Meat
2 Tbsp. Flour
2 Tbsp. Olive Oil
1 Onion, chopped
2 Garlic Cloves, minced
4 Carrots, sliced
2 Celery Stalks, sliced
2 Bay Leaves
1 Tsp. Dried Thyme
4 Cups. Beef Broth
1 Cup Red Wine
4 Potatoes, peeled and cut into small cubes
Salt and Pepper, to taste
Instructions
In a bowl, coat the beef stew meat with flour.
Heat olive oil in a Dutch oven or large pot over medium-high heat.
Add the beef stew meat and cook until browned on all sides.
Add onion and garlic, and sauté for 2-3 minutes, or until they're softened.
Add sliced carrots, celery stalks, bay leaves, and dried thyme.
Stir and sauté for 3-4 minutes.
Add beef broth and red wine, stir well. Bring to a boil.
Reduce the heat to low, cover, and simmer for 1 hour.
After an hour, add cubed potatoes and continue to cook for another hour until potatoes are tender.
Remove bay leaves, add salt and pepper to taste.
Serve hot and enjoy the hearty and savory beef stew.
Number of Servings
Nutritional Information (per serving)
Calories: 460
Total Fat: 18g

Saturated Fat: 5g
Unsaturated Fat: 11g
Trans Fat: 0g

Cholesterol: 105mg
Sodium: 970mg
Total Carbohydrates: 23g

Dietary Fiber: 3g
Total Sugars: 5g
Added Sugars: 0g

Protein: 46g
Ask the Chef – Tips & Tricks
Sear the Meat:
Searing the meat before adding the vegetables concentrates the flavor and gives the beef a nice golden brown crust. Do not overcrowd the pot when searing the meat, as this will result in steaming rather than searing.
Flouring the Meat:
Coating the meat with flour not only helps to thicken the sauce but also helps to brown the meat when you're searing it.
Cut Vegetables Evenly:
Cut vegetables into uniform sizes to ensure they cook evenly. Small cubes are best for potatoes, as they cook faster than larger pieces.
Use Beef Broth:
Avoid using water, and instead use beef broth as it adds depth of flavor to the stew.
Allow Enough Time:
Stewing meat takes time, and the longer you simmer the stew, the more tender the meat will be. At least 2 hours of simmering is required to achieve maximum tenderness and flavor.
Adjust Seasoning:
Taste your stew before serving and adjust the seasoning according to your preference. If the stew is too thick, you can add more beef broth or even red wine to thin it out.