Savor The Aromatic Flavors Of Our Creamy Mushroom Risotto Recipe – Perfect Comfort Food For All Times!
Indulge in a rich and creamy experience with our Mushroom Risotto recipe. This classic Italian comfort food features creamy Arborio rice cooked to perfection with earthy mushrooms, fragrant garlic, and savory parmesan cheese. The result is a velvety, aromatic dish that is both filling and comforting. Perfect as a main course or side dish, this recipe is easy to prepare and customizable to your taste buds. So, grab a spoon, pour yourself a glass of wine, and dig into this comforting bowl of Creamy Mushroom Risotto.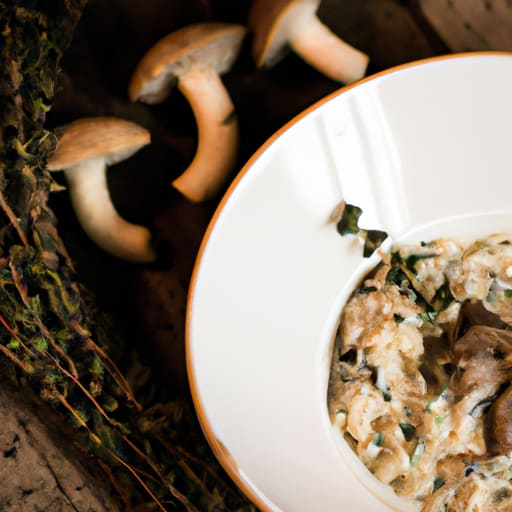 Ingredients
4 cups chicken or vegetable broth
2 tablespoons olive oil
1/2 onion, finely chopped
1 garlic clove, minced
1 1/2 cups Arborio rice
1/2 cup dry white wine
1/2 pound mushrooms, sliced
2 tablespoons unsalted butter
1/2 cup grated parmesan cheese
Salt and pepper to taste
Instructions
In a medium saucepan, heat broth over low heat and keep it warm.
In another large saucepan, heat olive oil over medium heat.
Add onion and garlic and sauté for 2-3 minutes until softened.
Add Arborio rice and stir for 2-3 minutes until lightly toasted.
Pour in the dry white wine and stir until it's absorbed.
Add sliced mushrooms and mix well.
Gradually add the warm broth one ladle at a time, stirring constantly and allowing each ladle to be absorbed before adding the next.
Continue until all the broth has been added and rice is creamy and tender to your liking.
Remove from heat, and stir in butter and grated parmesan cheese until combined.
Add salt and pepper to taste.
Serve hot and enjoy the creamy mushroom risotto!
Number of Servings
Nutritional Information (per serving)
Calories: 360
Total Fat: 15g

Saturated Fat: 6g
Unsaturated Fat: 8g
Trans Fat: 0g

Cholesterol: 25mg
Sodium: 750mg
Total Carbohydrates: 44g

Dietary Fiber: 1g
Total Sugars: 1g
Added Sugars: 0g

Protein: 11g
Ask the Chef – Tips & Tricks
Use Proper Broth:
Use chicken or vegetable broth made from scratch. The better the broth, the better the risotto will taste.
Toasting Rice:
Toasting the rice before adding the liquid helps to ensure it is fluffy rather than starchy or gooey. Toast it until it turns slight golden brown.
Adding Wine:
Adding a splash of white wine adds a layer of flavor to the risotto. Always use a wine that you'd be happy to drink.
Cooking Mushrooms:
When the mushrooms are added, cook them until they release their moisture. Do not overcrowd the pan or else mushrooms will become limp instead of browned.
Stir Constantly:
Risotto needs to be stirred constantly. Keep stirring and adding broth until the rice is cooked thoroughly and creamy.
Warm Broth:
Adding cold broth to the risotto slows down the cooking process and makes it difficult for the rice to absorb the liquid. Always use warm broth.
Adding Cheese:
Parmesan cheese adds the richness and depth of flavor to the risotto. Add cheese at the end so that it can melt and combine with the other ingredients.
Serving:
Serve the mushroom risotto immediately since it tends to lose its creamy consistency when it cools. You can garnish it with fresh herbs or edible flowers, such as chives, parsley, or a shaving of truffle, for a more luxurious touch.