Treat Yourself to a Deliciously Decadent Creamy Shrimp Alfredo Pasta Dish.
Indulge in the richness of Creamy Shrimp Alfredo, a decadent pasta dish that's sure to please. Made with succulent shrimp, al dente fettuccine, and a perfectly seasoned garlic cream sauce, this dish is a perfect balance of luxurious and comforting. In just a few simple steps, you can create an impressive dinner that's perfect for date night or a cozy evening in. With its creamy, velvety texture and complex flavors, Creamy Shrimp Alfredo is a surefire hit that's guaranteed to have everyone asking for seconds!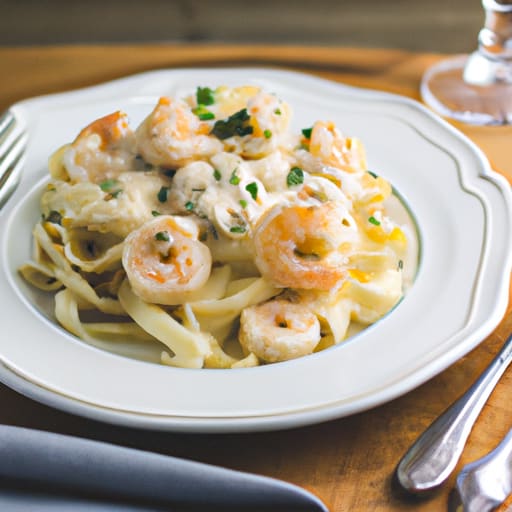 Ingredients
8 oz. fettuccine pasta
3/4 lbs. large shrimp
1/4 tsp. salt
1/4 tsp. black pepper
1/2 tsp. dried basil
1/2 tsp. dried thyme
3 tbsp. unsalted butter
1 chopped onion
2 minced garlic cloves
1/4 cup dry white wine
1 1/2 cups heavy cream
1/2 cup chicken broth
3/4 cup grated Parmesan cheese
1/4 cup chopped fresh parsley
Instructions
Begin by preparing the fettuccine pasta according to package directions. Drain and set aside.
Season the shrimp with salt, black pepper, dried basil, and dried thyme.
Melt the unsalted butter in a large skillet over medium-high heat.
Add the seasoned shrimp to the skillet and cook until pink and slightly browned, around 2 minutes per side. Remove the shrimp from the skillet and set aside.
In the same skillet, add the chopped onion and minced garlic and cook for around 3 minutes until softened.
Pour in the dry white wine, heavy cream, and chicken broth. Bring to a boil.
Reduce heat to low and allow the sauce to simmer, while whisking, until it thickens, approximately 5-7 minutes.
Gradually stir in the grated Parmesan cheese and cook until it melts and the sauce becomes smooth.
Add the cooked pasta to the skillet and toss to coat with the sauce.
Return the cooked shrimp to the skillet and toss everything together.
Sprinkle freshly chopped parsley over the top and serve hot.
Number of Servings
Nutritional Information (per serving)
Calories: 780
Total Fat: 50g

Saturated Fat: 30g
Unsaturated Fat: 16g
Trans Fat: 0g

Cholesterol: 410mg
Sodium: 950mg
Total Carbohydrates: 44g

Dietary Fiber: 2g
Total Sugars: 3g
Added Sugars: 0g

Protein: 36g
Ask the Chef – Tips & Tricks
Do Not Overcook Shrimp:
Be careful not to overcook the shrimp, as they can become tough and rubbery. Cook them until they turn pink and slightly browned, around 2 minutes per side.
Use Dry White Wine:
Use a good quality dry white wine, such as Sauvignon Blanc or Pinot Grigio, to add flavor to the sauce. If you don't want to use wine, you can substitute with chicken broth.
Low Heat:
When simmering the sauce, be sure to keep the heat on low. Boiling or high heat can cause the cream to separate and the cheese to clump.
Reduce Sauce:
Reduce the sauce until it thickens, approximately 5-7 minutes. This will help the sauce to better cling to the pasta and shrimp.
Mix Everything Together:
Once you've added the pasta and shrimp back to the skillet with the sauce, be sure to toss everything together. This will ensure the flavors are evenly distributed throughout the dish.
Fresh Parsley:
Adding freshly chopped parsley to the dish gives it a bright and fresh flavor. Consider using other fresh herbs like basil or thyme to add more depth to the dish.
Leftovers:
Creamy shrimp alfredo can be stored in an airtight container in the fridge for up to 3-4 days. When reheating, add a bit of milk or cream to the dish, and heat it up slowly in a skillet over low heat while stirring occasionally.