Taste the Best: Debdoozie's Award-Winning Blue Ribbon Chili Recipe
Get ready to tantalize your taste buds with a steaming bowl of Debdoozie's Award-Winning Blue Ribbon Chili Recipe. This hearty dish is the perfect combination of tender meats, fresh herbs, and flavorful spices that come together in a rich and savory broth. Each bite is a delicious explosion of flavor that leaves you wanting more. Winner of countless chili cookoffs, this recipe is a crowd-pleaser that's perfect for a cozy night in or feeding a hungry crowd. With a perfect balance of heat and depth, it's no wonder why Debdoozie's Blue Ribbon Chili has earned an award-worthy reputation.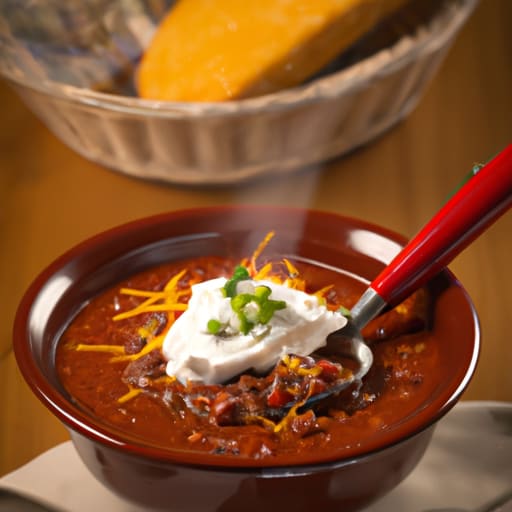 Ingredients
2 Pounds Ground Beef
1 Pound Pork Sausage
1 Can (15oz) Kidney Beans
2 Cans (14.5oz) Diced Tomatoes with Juice
1 Can (8oz) Tomato Sauce
1 Can (6oz) Tomato Paste
1 Green Bell Pepper, chopped
1 Red Bell Pepper, chopped
1 Large Onion, chopped
3 Stalks Celery, chopped
2 Jalapeno Peppers, diced
1 Habanero Pepper, diced
1 Bottle (12oz) Beer
1/4 Cup Chili Powder
1 Tbsp Ground Cumin
1 Tbsp Paprika
1 Tbsp Salt
1 Tbsp Black Pepper
1 Tsp Garlic Powder
1 Tsp Onion Powder
1 Tsp Dried Basil
1 Tsp Dried Oregano
Instructions
In a large pot, brown the ground beef and pork sausage over high heat until cooked through. Drain the excess grease.
Add the kidney beans, diced tomatoes with juice, tomato sauce, tomato paste, green bell pepper, red bell pepper, onion, celery, jalapeno peppers, and habanero pepper. Stir to combine.
Mix in chili powder, ground cumin, paprika, salt, black pepper, garlic powder, onion powder, dried basil, and dried oregano.
Pour in the beer and stir to combine.
Simmer over low heat for at least 2 hours, stirring occasionally.
Adjust seasoning to taste.
Serve hot with your favorite chili toppings such as shredded cheese, sour cream, and diced onions.
Enjoy your award-winning blue ribbon chili!
Number of Servings
Nutritional Information (per serving)
Calories: 520
Total Fat: 29g

Saturated Fat: 10g
Unsaturated Fat: 16g
Trans Fat: 1g

Cholesterol: 100mg
Sodium: 1530mg
Total Carbohydrates: 25g

Dietary Fiber: 7g
Total Sugars: 10g
Added Sugars: 0g

Protein: 38g
Ask the Chef – Tips & Tricks
Browning Meat:
Brown the meat in small batches over high heat, if you add too much meat all at once, it will release moisture and start steaming instead of browning. This might cause the meat to stew, rather than brown.
Adjust Heat:
Adjust the heat of your chili according to your preference. If you cannot handle spicy food, reduce or omit the habanero pepper and jalapeno peppers. Alternatively, you could add a pinch of sugar to balance out the heat.
Simmering Time:
Simmer the chili uncovered for at least 2 hours to allow the flavors to meld together. If you start to notice the chili getting too thick, add a little water or broth to get the right consistency.
Draining Beans:
Be sure to drain the canned kidney beans to avoid creating a watery chili.
Chili Powder:
Use chili powder that's not very spicy or add a little bit at a time, to avoid making your chili too hot.
Beer:
Use a good quality beer that you would be happy drinking to add your chili. A good beer will create a rich depth of flavor in your chili.