Easy Breakfast Galette: A Savory Dish to Start Your Day with Flavor
If you're looking for a new way to enjoy breakfast, why not try a breakfast galette? This rustic, savory dish is perfect for those mornings when you want something filling and delicious, but don't want to spend hours in the kitchen.
A French Classic with a Twist
Originally a French dish, galettes have become popular all over the world. A galette is a type of free-form pastry that is typically made with a savory filling. The crust is usually made from a simple dough that is folded over the filling and baked until crispy and golden brown.
For breakfast galettes, the filling is typically made with eggs, cheese, and vegetables such as spinach, mushrooms, or tomatoes. Herbs and spices add extra flavor and aroma to the dish. It's a classic breakfast dish that can be customized to your liking.
Easy and Quick to Make
One of the main reasons that breakfast galettes have become so popular is their simplicity. They are easy and quick to make, which means you can enjoy a delicious, homemade breakfast without spending a lot of time in the kitchen.
Another benefit of breakfast galettes is their versatility. You can use whatever fillings you have on hand, so you can easily adapt the recipe to suit your tastes. Plus, they can be served hot or cold, which makes them perfect for busy mornings when you need to grab something and go.
A Filling and Nutritious Breakfast Option
Breakfast is the most important meal of the day, and a breakfast galette is a great way to kickstart your day with a filling and nutritious meal. The eggs in the filling provide a good source of protein, which will help keep you feeling full until lunchtime. The vegetables in the filling provide a range of vitamins and minerals, which are essential for good health.
Moreover, the dough used to make the galette is made from simple, whole ingredients like flour and butter, which means you can feel good about what you're eating. You can even choose to make the dough with whole wheat flour for an even healthier option.
A Crowd-Pleaser
Whether you're cooking for your family, friends or just for yourself, a breakfast galette is sure to impress. The dish looks and tastes impressive, so it's perfect for a special occasion breakfast or brunch. It's also a great way to introduce your family to new flavors and ingredients, as you can add whatever fillings they like.
If you're hosting a brunch, you can prepare a few different types of galettes with various fillings to cater to different tastes. This dish is also great for a potluck or bring-a-dish event, as it's easy to transport and serve.
Conclusion
Overall, a breakfast galette is a versatile, delicious, and nutritious way to start your day. Whether you prefer a classic filling or something with a little more flair, this dish is sure to please. Best of all, it can be made in advance and reheated when needed, so you can still enjoy a homemade breakfast even on the busiest of mornings.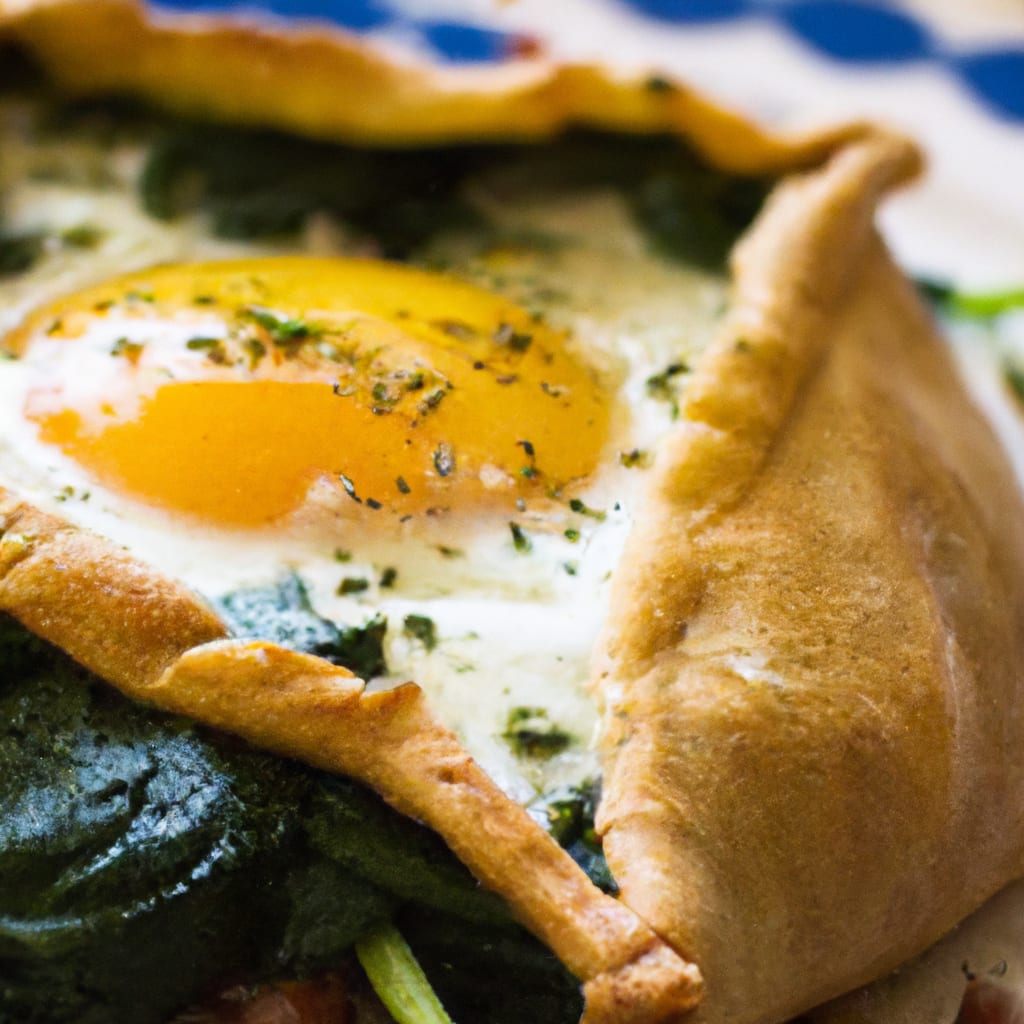 Ingredients
– 1 refrigerated Pie Crust
– 3 Eggs
– 1/3 Cup Heavy Cream
– 1/4 Tsp Salt
– 1/4 Tsp Black Pepper
– 1/2 Cup Cooked Bacon, chopped
– 1/2 Cup Shredded Cheddar Cheese
– 1 Tbsp Fresh Thyme
– 1 Tbsp Chopped Scallions (Green Onions)
Instructions
1. Preheat the oven at 375°F (190°C).
2. Roll out the refrigerated pie crust onto a large baking sheet lined with parchment paper.
3. In a bowl, whisk together the eggs, heavy cream, salt, and black pepper.
4. Pour the egg mixture into the center of the pie crust, leaving a 2-inch border around the edges.
5. Sprinkle the cooked bacon, shredded cheddar cheese, fresh thyme, and chopped scallions over the egg mixture.
6. Fold the edges of the pie crust over the filling, pleating the crust every 2 inches.
7. Brush the edges of the crust with egg wash or melted butter.
8. Bake in preheated oven for 35-40 minutes, or until the crust is golden brown and the egg mixture is set.
9. Let the galette cool for a few minutes before serving. Serve hot, and enjoy!
Ask the Chef
– Add Vegetables: This recipe can be personalized for your taste with the addition of sautéed vegetables such as mushrooms, spinach, bell peppers, or onions.
– Crust Technique: To prevent the crust from being soggy in the center, poke the bottom of the crust with a fork, creating tiny holes for steam to escape.
– Pre-cooking: For an evenly cooked galette, pre-cook any vegetables or meat that you are adding to this dish.
– Use Fresh ingredients: Fresh thyme and scallions especially bring out the flavor of the galette. Also, freshly grated cheese should be used instead of pre-grated cheese for the best flavor.
– Perfect Egg Mixture Texture: Do not overmix the egg mixture; it should be just combined. Overmixing can cause the galette to become rubbery.
– Leftovers: Leftovers can be stored in an airtight container and reheated in the oven at a low temperature. Cold leftover galette also makes for a great breakfast on-the-go.