Beat the Heat this Summer with Our Tropical Pitanga Sorbet – Vegan, Gluten-Free and Delicious!
Cool down this summer with a delicious Pitanga Sorbet! Made from the bright and tangy Pitanga fruit, this scrumptious recipe offers an invigorating burst of tropical flavor. Simply blend the ripe fruit with a splash of lime juice and a dash of honey, and freeze until firm. The result? A refreshing, dairy-free treat that is perfect for beating the heat. Vegan, gluten-free, and bursting with nutrients, Pitanga Sorbet is the perfect guilt-free dessert for any occasion. Serve it in bowls or cones, and indulge in the rich, exotic flavor of the tropics, right from your own kitchen!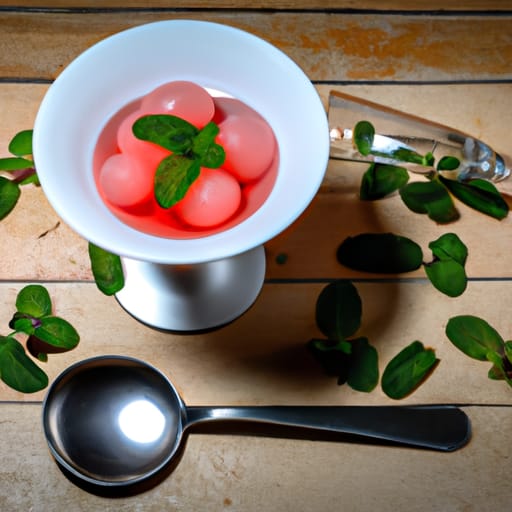 Ingredients
2 Cups Pitanga Pulp
1/2 Cup Sugar
1/4 Cup Water
2 Tbsp Lemon Juice
Pinch of Salt
Instructions
In a saucepan, combine the sugar, water and pinch of salt and stir over medium heat until the sugar dissolves.
Set aside the sugar mixture and let it cool to room temperature.
In a blender, add the pitanga pulp, lemon juice, and cooled sugar mixture, then blend until it's smooth.
Pour the sorbet mixture into an ice cream maker (preferably) or a shallow container and freeze for about 3-4 hours, or until it's firm.
If making it without an ice cream maker, remove the sorbet from the freezer every 30 minutes and stir until it reaches the desired consistency.
Serve the pitanga sorbet straight out of the ice cream maker (if using) or transfer it to a container and freeze for later.
Number of Servings
Nutritional Information (per serving)
Calories: 165
Total Fat: 0g

Saturated Fat: 0g
Unsaturated Fat: 0g
Trans Fat: 0g

Cholesterol: 0mg
Sodium: 20mg
Total Carbohydrates: 42g

Dietary Fiber: 0g
Total Sugars: 37g
Added Sugars: 12g

Protein: 0g
Ask the Chef – Tips & Tricks
Frozen Pitanga Pulp:
Make sure to use frozen pitanga pulp for the recipe. If you can't find it in your local grocery store, check your local Latin American or Asian markets.
Room Temperature:
It's important to let the sugar mixture cool to room temperature before blending it with the pitanga pulp. Otherwise, it might cook the pulp, which will alter the taste and texture of the sorbet.
Blender:
Use a powerful blender to make the sorbet mixture smooth. A good blender will ensure that seeds and pulp are broken down entirely for a smooth sorbet texture.
Ice Cream Maker:
An ice cream maker will produce the best results when making sorbet while giving it the perfect creamy texture. Make sure your ice cream maker bowl is properly frozen before starting the sorbet.
Without an Ice Cream Maker:
If making sorbet without an ice cream maker, freeze it in a shallow container to make the stirring process easier. Be sure to stir every half an hour or so to break any ice crystals to make a smooth and creamy texture.
Serving:
To serve, let it sit at room temperature for a couple of minutes to soften before scooping. For added flavor, consider garnishing it with fresh mint leaves or chopped pistachios.