Experience Gourmet-Style Cooking with Our Quick and Easy Sauteed Mushrooms Recipe!
Indulge in the rich, savory flavors of sauteed mushrooms with this quick and easy recipe. Prepared with just a handful of ingredients, these plump, juicy mushrooms are infused with garlic, herbs, and a touch of butter, delivering a mouthwatering taste that is sure to satisfy your cravings. Perfect as a side dish or topping for steak, burgers, or barley bowls, these sauteed mushrooms can be rustled up in just a few minutes, making them an ideal choice for busy weeknights or impromptu gatherings. Treat yourself to this delectable recipe and experience the joy of effortless, gourmet-style cooking.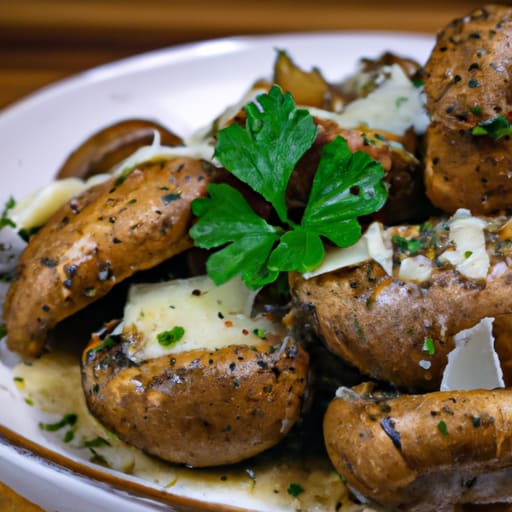 Ingredients
1 lb. Mushrooms
2 Tbsp. Olive Oil
1 Tbsp. Butter
2 Garlic Cloves
2 Tsp. Fresh Thyme
Salt and Pepper to taste
1 Tbsp. Parsley, chopped (optional, for garnish)
Instructions
Clean and slice the mushrooms.
Heat olive oil and butter in a large skillet over medium heat.
Add garlic and sauté for 30 seconds.
Add the mushrooms, fresh thyme, salt, and pepper to the skillet.
Sauté the mushrooms for about 5-7 minutes or until they are tender and golden brown.
Stir occasionally while cooking.
Once cooked, transfer the mushrooms to a serving dish.
Garnish with chopped parsley (optional) and serve hot.
Number of Servings
Nutritional Information (per serving)
Calories: 120
Total Fat: 10g

Saturated Fat: 3.5g
Unsaturated Fat: 6.5g
Trans Fat: 0g

Cholesterol: 5mg
Sodium: 80mg
Total Carbohydrates: 5g

Dietary Fiber: 1g
Total Sugars: 2g
Added Sugars: 0g

Protein: 3g
Ask the Chef – Tips & Tricks
Choose the Right Mushrooms:
Use fresh mushrooms for this recipe, and choose a type of mushroom that you like. Cremini, white button, or shiitake mushrooms are great options.
Clean Mushrooms Properly:
To clean the mushrooms, use a damp paper towel or a mushroom brush to gently wipe away any dirt or debris. Do not soak mushrooms in water, as they will absorb the liquid and become soggy when cooked.
Slice Mushrooms Evenly:
Slice the mushrooms thinly and evenly so that they cook at the same rate.
Use a Large Skillet:
Use a large skillet or pan, so that there is enough space for the mushrooms to cook and not to overcrowd. Overcrowding the pan will cause the mushrooms to release moisture, resulting in boiled or steamed mushrooms instead of sauteed.
Sauté Over Medium Heat:
Sauté the mushrooms over medium heat. This allows the mushrooms to cook slowly and evenly. Cooking them on high heat might cause them to burn quickly or become tough.
Season at the Right Time:
Add salt and pepper to the mushrooms once they have released some of their moisture. Adding salt too early will cause the mushrooms to release more liquid and become overly softened or slimy.
Don't Overcook:
Do not overcook the mushrooms, as it will cause them to become soft and mushy. Cook the mushrooms until they are slightly browned and tender but still holding their shape.
Garnish with Chopped Parsley:
For an extra pop of color and flavor, garnish the finished mushrooms with chopped parsley before serving. This is optional but adds a fresh herby taste to the dish.