Discover the Wonders of Alabama Chicken Stew
Alabama Chicken Stew is a classic Southern dish that has been enjoyed throughout generations. Also known as "Alabama White Stew," this dish has its roots in the traditional barbecues of the Deep South. This hearty and flavorful stew is a comforting and satisfying meal that is perfect for a chilly evening.
A Rich Culinary Tradition
The state of Alabama has a rich culinary history, and Alabama Chicken Stew is a true reflection of this. It is a dish that is steeped in tradition and has been passed down from generation to generation. This is the type of stew that is perfect for sharing with friends, family, and loved ones, and has become a beloved staple of many Southern barbecue gatherings.
An Explosion of Flavors
The flavor profile of Alabama Chicken Stew is truly unique. It is a combination of tart, savory, and creamy that works together to create a flavor explosion in the mouth. The dish's main ingredients include chicken, potatoes, onions, and sometimes corn, all cooked in a creamy white sauce. The flavors are further enhanced with the addition of Worcestershire sauce and hot sauce, making this a spicy and comforting dish all at once.
Healthy and Comforting
Alabama Chicken Stew is not only delicious, but it is also a healthy and comforting meal. The chicken provides lean protein, while the vegetables offer an array of vitamins and minerals. The creamy sauce usually contains milk or cream, making the dish richer and more comforting.
Overall, Alabama Chicken Stew is a well-balanced meal that is both healthy and comforting.
The Perfect Meal for Any Occasion
Alabama Chicken Stew is a versatile dish that can be served for any occasion. Whether it's a casual family dinner or a special occasion, this stew is sure to impress. The hearty nature of the dish makes it perfect for a cold evening meal, while the vibrant flavors make it a great addition to a summer barbecue or get together. Whether served with bread or rice, the dish is sure to be a hit with everyone.
A Tribute to Southern Culture
Alabama Chicken Stew is more than just a dish; it's a testament to the rich and vibrant culture of Southern cuisine. The dish is a reflection of the traditions and heritage that have been passed down for generations. Eating this stew, bringing together family and friends, and enjoying the comfort of a delicious meal is truly an experience that represents the best of Southern hospitality.
In conclusion, Alabama Chicken Stew is a beloved dish that is etched in the culinary history of the Deep South. It is a dish that has stood the test of time and continues to be enjoyed by many. The unique combination of flavors, the healthy ingredients, and the versatility of the dish make it a go-to meal for any occasion. So, why not try it out and see why Alabama Chicken Stew has become one of the most beloved Southern dishes of all time?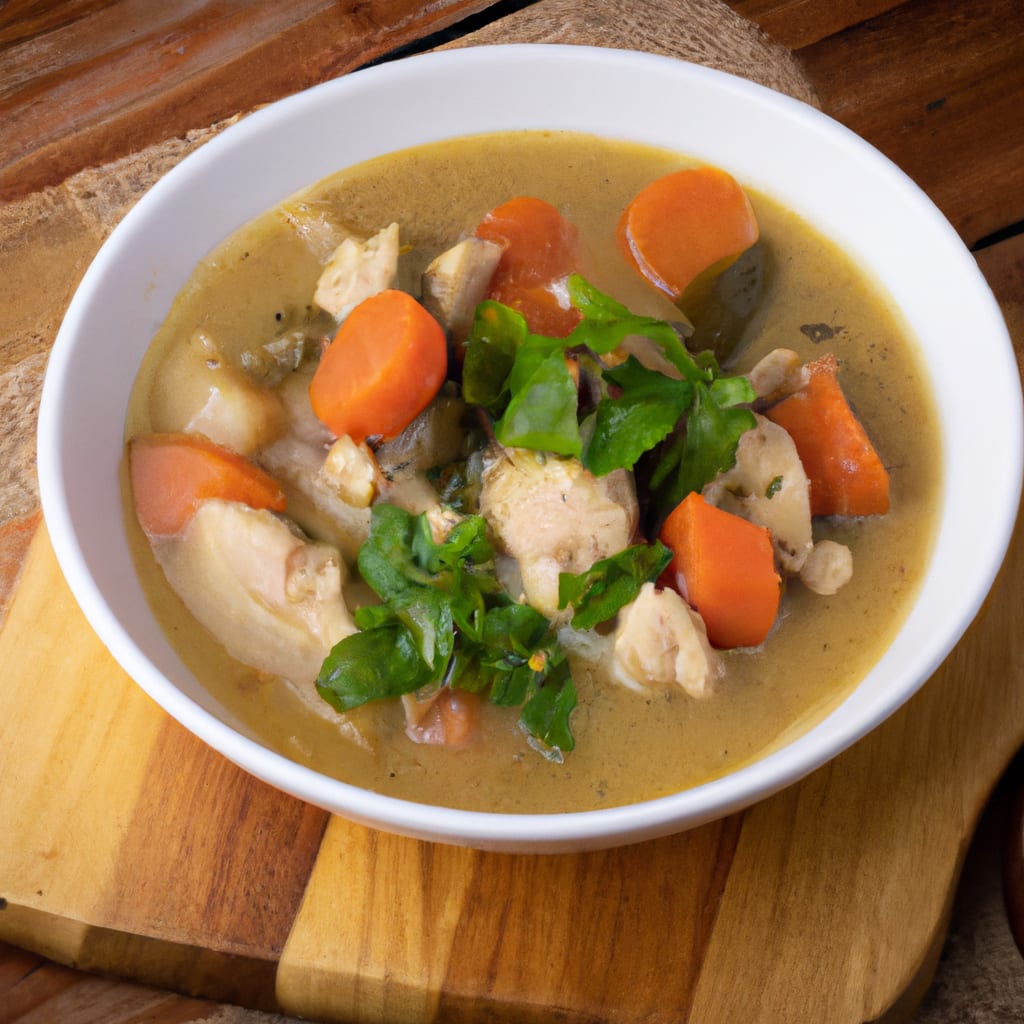 Ingredients
1 lb. boneless, skinless chicken breast, cut into 1″ pieces
3 tbsp. vegetable oil
2 cups chopped onion
1 (14.5-oz.) can diced tomatoes
6 cups chicken broth
1/2 cup long-grain white rice
3 tbsp. tomato paste
1 tsp. dried oregano
1 tsp. garlic powder
1 tsp. salt
1/2 tsp. freshly ground black pepper
1/2 tsp. red pepper flakes
1/2 cup peanut butter
1/2 cup heavy cream
2 tbsp. fresh lemon juice
Chopped fresh parsley and cilantro, for serving (optional)
Instructions
1. Heat vegetable oil in a large pot over medium heat.
2. Add chopped onion and sauté until soft.
3. Add chicken breast and cook until browned on all sides.
4. Add diced tomatoes, chicken broth, long-grain white rice, tomato paste, dried oregano, garlic powder, salt, black pepper, and red pepper flakes.
5. Bring to a boil and then reduce heat to a simmer.
6. Cover and let cook for 25 minutes, or until rice is cooked and chicken is tender.
7. Whisk together peanut butter, heavy cream, and fresh lemon juice in a small bowl.
8. Add the peanut butter mixture to the pot and let simmer for an additional 10-15 minutes.
9. Serve hot with chopped fresh parsley and cilantro as desired. Enjoy!
Ask the Chef – Tips & Tricks
Don't Overcook the Chicken:
Be cautious not to overcook the chicken. Overcooking chicken will make it hard and rubbery. Once it is browned on all sides, it should be taken off the heat and added back during the final stages of cooking.
Customize It:
This recipe lends itself to customization, and you can add your favorite vegetables to suit your taste. Baby spinach and chopped carrots are excellent additions.
Prevent Separation of Peanut Butter:
Use creamy peanut butter instead of chunky. To prevent separation of peanut butter, add it slowly to the stew while whisking continuously.
Use a Heavy Pot:
It is recommended to use a heavy-bottomed pot to control the heat. This will keep the mixture from sticking to the bottom of the pot and burning.
Serve Hot:
This stew should be served immediately once ready. It tastes superb with crusty bread, pasta, or potatoes on the side. Leftovers can be stored in the refrigerator for up to three days and reheated on the stove or in the microwave.