Have You Tried Naanchos: The Delicious Fusion Twist?
Naanchos, also known as chicken tikka masala naan chos, are a delightful fusion twist on the classic nachos dish. Naanchos are a flavorful combination of South Asian and Mexican cuisines. They have taken the culinary world by storm, and it's easy to see why.
The Perfect Combination of Flavors
The magic of naanchos lies in their combination of flavors. The warm and crisp naan bread makes a perfect base for the spicy chicken tikka masala sauce, which is then topped with melted cheese, onions, jalapeños, and cilantro. The sweet and tangy flavors of the sauce blend perfectly with the cheesy goodness of the naan bread, and the onions and jalapeños add a nice crunch and heat to the dish.
A Crowd-Pleasing Option
If you're looking for a dish that is sure to please a crowd, naanchos are the perfect option. They offer the classic nachos experience with a delicious twist that will impress your guests. Whether you're hosting a game night, a party, or a movie night, naanchos are sure to be a hit.
A Versatile Dish
Naanchos are also a versatile dish that can be customized to your liking. You can easily switch up the toppings to create your own signature naanchos dish. For example, you could add diced tomatoes, avocado, or even jalapeño poppers to the mix.
Furthermore, if you prefer vegetarian options, you can replace the chicken tikka masala with paneer or vegetable tikka masala. Naanchos are a great vegetarian option that will not compromise on the taste or experience.
Comfort Food in a Bowl
Naanchos can be the perfect comfort food for any day of the week. They offer the warmth and heartiness of a classic comfort food dish with a unique twist. The Indian flavors will invigorate your senses and warm you up, making it a great option for cold winter nights or for rainy days.
The Perfect Snack
Naanchos are also the perfect snack option. They can be easily made and enjoyed while watching a movie or a game. In fact, they can even be an excellent option for an afternoon snack that will keep hunger at bay until dinner time.
Final Thoughts
Naanchos are a delicious fusion twist that will satisfy any cravings for both Indian and Mexican flavors. They are a versatile and customizable dish that can fit any occasion, from parties to comfort food meals. If you haven't tried naanchos yet, it's time to give them a chance. You won't regret it!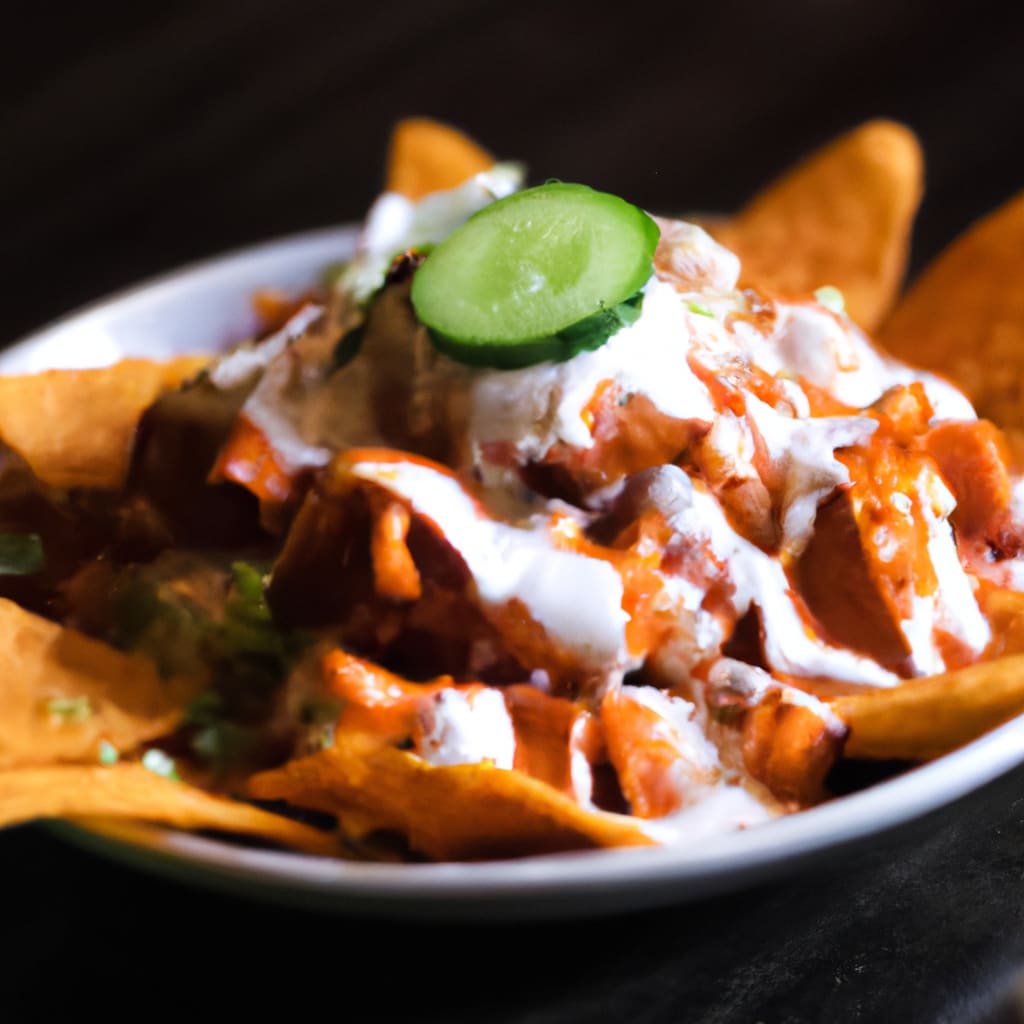 Ingredients
2 Naan bread
1/2 cup cooked chicken tikka masala (leftovers work great!)
1/4 cup diced red onion
1/4 cup diced tomato
1/4 cup chopped fresh cilantro
1/4 cup plain Greek yogurt
1/4 cup mango chutney (or any favorite chutney)
Instructions
1. Preheat oven to 350°F.
2. Cut Naan bread into bite-sized pieces and place them on a baking sheet.
3. Spoon chicken tikka masala over the Naan pieces.
4. Sprinkle diced red onion and tomato on top of the chicken tikka masala.
5. Bake in preheated oven for 5-7 minutes, or until the Naan pieces are lightly toasted and the chicken is warmed through.
6. Remove Naanchos from oven and sprinkle with chopped fresh cilantro.
7. Drizzle Greek yogurt and mango chutney over the top.
8. Serve warm and enjoy!
Ask the Chef – Tips & Tricks
None