"Revamp Your Thanksgiving Leftovers: Try Our Mouthwatering Dinner Bombs Recipe Now!"
Transform your Thanksgiving leftovers into a mouth-watering meal with this Dinner Bombs Recipe. Stuffed with turkey, cranberry sauce, mashed potatoes, and stuffing, these savory bites of heaven are wrapped in a warm, buttery crescent roll for a crispy, golden outer layer. A perfect blend of sweet and savory, these Dinner Bombs are a fun and creative way to repurpose your holiday leftovers into a fun and delicious meal for the whole family. Quick and easy to prepare, they'll have you saying "yum" with every bite. Give your leftovers a stunning makeover with this Thanksgiving Leftover Dinner Bombs Recipe!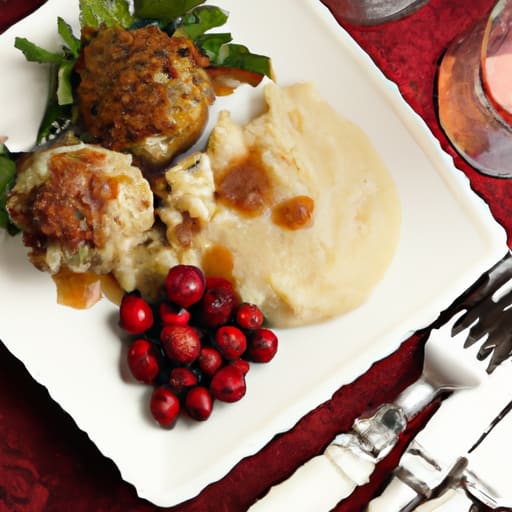 Ingredients
1.5 cups of leftover mashed potatoes
1.5 cups of leftover stuffing
1.5 cups of leftover shredded turkey meat
1.5 cups of leftover cranberry sauce
1.5 cups of leftover gravy
3 cans of large biscuits (24 biscuits total)
Salt and pepper to taste
Instructions
Stir together the mashed potatoes, stuffing, and shredded turkey meat in a large mixing bowl until well blended. Add salt and pepper to the mixture to taste.
Preheat your oven to 350°F.
Line a baking sheet with parchment paper.
Open the cans of biscuits and separate out each biscuit.
Flatten each biscuit with your hands or a rolling pin.
Add a spoonful of cranberry sauce and gravy on top of each biscuit.
Add 2-3 heaping tablespoons of the turkey mixture on top of the cranberry sauce and gravy.
Bring the sides of each biscuit up to the center, pinching the edges to seal tightly and shaping them into a round bomb shape.
Place each stuffed biscuit bomb onto the parchment-lined baking sheet with the seam-side down.
Bake for 20-25 minutes or until the biscuits have risen and are golden brown.
Serve hot and enjoy your Thanksgiving leftovers in a new way!
Number of Servings
Nutritional Information (per serving)
Calories: 250
Total Fat: 14g

Saturated Fat: 3.5g
Unsaturated Fat: 7g
Trans Fat: 0g

Cholesterol: 20mg
Sodium: 570mg
Total Carbohydrates: 24g

Dietary Fiber: 1g
Total Sugars: 7g
Added Sugars: 1g

Protein: 7g
Ask the Chef – Tips & Tricks
Mixing the Ingredients:
When mixing the mashed potatoes, stuffing, and shredded turkey meat, be careful not to overwork the mixture, or it can become too starchy. Mix it until just combined.
Flattening the Biscuits:
When flattening the biscuits, make sure not to roll them out too thin or they might not hold together when stuffed. Also, be sure to handle them gently to avoid tearing or breaking.
Ensuring a Tight Seal:
It is essential to ensure that the edges of each biscuit are tightly sealed when shaping them into bombs. This keeps the filling inside and prevents leaks while baking.
Baking Time:
Keep an eye on the bombs as baking time can vary depending on your oven. You want to make sure they are cooked through and golden brown.
Variation:
For a different spin, try using sweet potatoes instead of mashed potatoes, or add some green beans, carrots, or other leftover vegetables to the filling mixture. The possibilities are endless, be creative with your leftovers!