Indulge in Decadent Gluten-Free Chocolate Mayonnaise Cake for a Guiltless Treat!
Indulge in the rich and decadent flavor of Gluten-Free Chocolate Mayonnaise Cake. Made with simple and wholesome ingredients like almond flour, cocoa powder, and mayonnaise, this cake offers a velvety texture and intense chocolate flavor that's hard to resist. Best of all, it's gluten-free, making it a perfect dessert choice for anyone with gluten sensitivities or allergies. Whether enjoyed with a cup of coffee, a scoop of vanilla ice cream, or a dusting of powdered sugar, this cake promises to satisfy your sweet tooth while staying true to your dietary restrictions. Give in to the temptation and enjoy the pleasure of Gluten-Free Chocolate Mayonnaise Cake!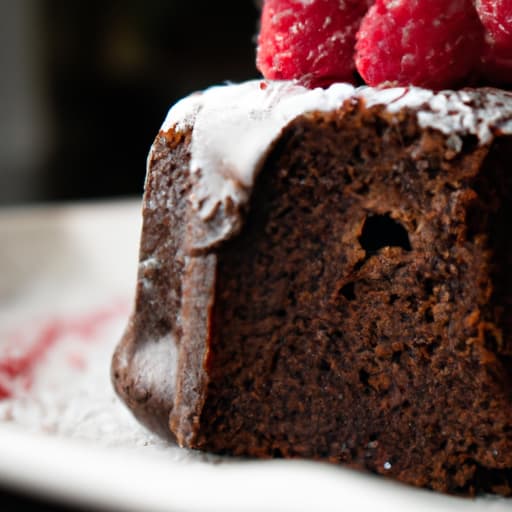 Ingredients
1 Cup Gluten-Free All-Purpose Flour
1 Cup Granulated Sugar
1/2 Cup Unsweetened Cocoa Powder
1 1/2 Tsp Baking Powder
1 Tsp Baking Soda
1/2 Tsp Salt
1 Cup Mayonnaise
1 Cup Hot Water
2 Tsp Vanilla Extract
Instructions
Preheat the oven to 350°F
Grease an 8-inch cake pan with cooking spray or butter
In a large mixing bowl, whisk the gluten-free all-purpose flour, granulated sugar, unsweetened cocoa powder, baking powder, baking soda, and salt
Add mayonnaise, hot water, and vanilla extract to the bowl
Mix all ingredients together until the batter is smooth
Pour the batter into the prepared cake pan
Bake in preheated oven for 25-30 minutes or until a toothpick inserted in the center of the cake comes out clean
Remove from oven and let cool in the pan for 10 minutes
Take the cake out of the pan and continue to cool on a wire rack
Once completely cooled, serve as is or frost with your favorite frosting
Enjoy your delicious gluten-free chocolate mayonnaise cake!
Number of Servings
Nutritional Information (per serving)
Calories: 390
Total Fat: 23g

Saturated Fat: 4g
Unsaturated Fat: 19g
Trans Fat: 0g

Cholesterol: 15mg
Sodium: 500mg
Total Carbohydrates: 46g

Dietary Fiber: 3g
Total Sugars: 32g
Added Sugars: 32g

Protein: 4g
Ask the Chef – Tips & Tricks
Use Quality Ingredients:
Since this cake is a simple recipe with minimal ingredients, make sure that you are using high-quality and fresh ingredients to get the best taste. Sift the cocoa powder to avoid lumps in the batter.
Gluten-Free Flour:
Use a gluten-free all-purpose flour that is specially designed for baking. To avoid getting a dense cake, do not overmix the batter.
Mayonnaise:
Use full-fat mayonnaise, preferably homemade, or a high-quality brand for the best results. The mayonnaise acts as a substitute for oil and eggs in the recipe and adds a rich, moist texture to the cake.
Baking Time:
Check the cake halfway through baking to avoid over-baking it. The toothpick inserted into the center should come out clean when the cake is ready. If the cake is left in the oven for too long, it may become dry.
Frosting:
If desired, frost the cake with your favorite frosting. Whipped cream, chocolate, or cream cheese frosting work well with this cake. Let the cake cool completely before frosting so that the frosting doesn't melt or slide off.
Storage:
Store the cake in an airtight container at room temperature. It will stay fresh for up to three days. You can also freeze the cake by wrapping it well with plastic wrap and aluminum foil before placing it in the freezer for up to three months.