Satisfy Your Sweet Tooth: Taste the Authenticity of Greek Baklava with Honey and Mediterranean Flavors!
Indulge in the exquisite taste of Greek Baklava with Honey and Mediterranean Flavors. This delicacy is made with layers of crispy phyllo pastry, cinnamon-spiked nuts, and drizzled with sweet, golden honey. Each bite takes you on a journey through the Mediterranean, with warm spices and aromatic flavors that are reminiscent of a sunny day on the coast. The nutty, crunchy texture is perfectly balanced with the sticky, syrupy sweetness of honey, providing a flavorful and satisfying treat. Serve as a dessert or snack, and impress your guests with this decadent and authentic Greek delicacy.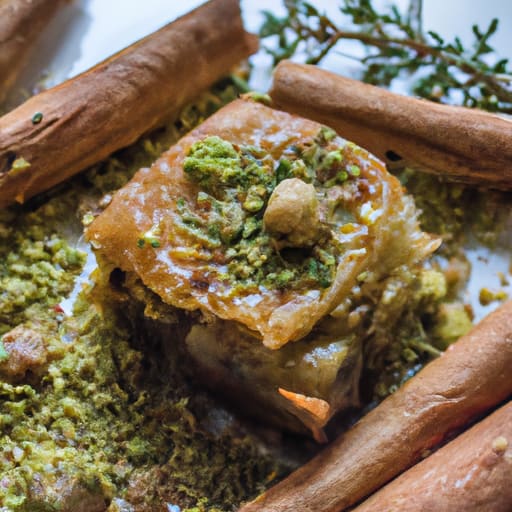 Ingredients
16 oz Phyllo Dough
2 Cups Almonds, finely chopped
1 Cup Pistachios, finely chopped
1 Cup Walnuts, finely chopped
1 Cup Butter, melted
1 Tsp Cinnamon
1/2 Tsp Nutmeg
3/4 Cup Honey
1 Tsp Orange Zest
1 Tsp Lemon Zest
Juice of 1/2 Orange
Juice of 1/2 Lemon
1/4 Cup Water
1 Cinnamon Stick
Instructions
Preheat oven to 350°F
Grease the bottom and sides of a 9×13 inch baking dish using melted butter
Mix all finely chopped nuts, cinnamon, and nutmeg in a large bowl
Unroll phyllo dough and place a sheet on the bottom of the prepared dish
Using a pastry brush, brush the sheet with melted butter
Add another sheet of phyllo dough and repeat until 6 sheets have been added
Spread 1/3 of the nut mixture evenly over the phyllo layer
Repeat steps 5-7 twice more until all but 5 sheets of phyllo dough have been used
Add the final 5 sheets of phyllo dough one at a time, brushing each sheet with melted butter
Using a sharp knife, cut the baklava into diamond shapes
Bake in the preheated oven for 35-40 minutes or until golden brown
While the baklava is baking, prepare the syrup by bringing honey, orange zest, lemon zest, orange juice, lemon juice, water, and cinnamon stick to a boil
Reduce heat to low and simmer for 15 minutes
Strain out the cinnamon stick and let the syrup cool
When the baklava is finished baking, immediately pour cooled syrup over it while it is still in the pan
Let the baklava cool for at least an hour before serving
Enjoy the delicious Greek Baklava with Honey and Mediterranean Flavors!
Number of Servings
Nutritional Information (per serving)
Calories: 340
Total Fat: 23g

Saturated Fat: 7g
Unsaturated Fat: 14g
Trans Fat: 0g

Cholesterol: 25mg
Sodium: 170mg
Total Carbohydrates: 31g

Dietary Fiber: 2g
Total Sugars: 19g
Added Sugars: 18g

Protein: 5g
Ask the Chef – Tips & Tricks
Melted Butter:
For a crispy and flaky baklava, it is essential to use melted butter for brushing each sheet of phyllo dough. So, make sure your butter is fully melted and kept warm.
Keep the Phyllo Dough Covered:
Phyllo dough tends to dry out quickly if left uncovered. Hence, make sure to keep the phyllo dough you're not currently using covered with a damp towel to prevent it from drying out and ripping.
Finely Chopped Nuts:
Use finely chopped nuts instead of big pieces to get a consistent texture in the baklava.
Cut Carefully:
When cutting the baklava, be very careful so that it doesn't fall apart. Make sure to cut it all the way down to the bottom of the dish.
Hot and Cold:
After baking, let the baklava cool down for a few minutes, then immediately pour the cooled syrup over it so that it penetrates evenly. The baklava should be hot, and the syrup should be cold. It will create a sizzling sound, and the syrup will be readily absorbed.
Cool Properly:
Allow the baklava to cool for at least 1 hour before serving to ensure that the phyllo layers are fully saturated and that it stays together.