Apple and Pear Soup: A Comforting, unique twist on Soup
When it comes to soup, we often think of hearty stews and thick broths. But there is a whole world of soup out there waiting to be explored. One such soup is the delicious apple and pear soup.
The Perfect Comfort Food
Apple and pear soup is a delicious, comforting soup that is perfect for chilly days. The combination of sweet fruit and savory broth creates a comforting and satisfying meal that will warm you up from the inside out.
But apple and pear soup is much more than just a hearty bowl of goodness. It is also packed with nutrients that are essential for good health. Apples and pears are both high in fiber, vitamin C, and antioxidants, making this soup a great choice for those looking to boost their immune system.
A Unique Taste Sensation
Apple and pear soup may sound like an unusual flavor combination, but it is surprisingly delicious. The sweetness of the fruit is balanced out by the savory broth, creating a unique taste sensation that is both satisfying and comforting.
This soup is also incredibly versatile. It can be served as an appetizer or as a main course. It can be served warm or cold, depending on your preferences, and can be garnished with a variety of toppings, such as croutons, herbs, or cream.
Elevate your Dinner Party
Apple and pear soup is not only a comforting and flavorful soup, but it can also be a great addition to your dinner party menu. It is a unique and unexpected dish that will impress your guests and elevate your dinner party to the next level.
Pair this soup with a crisp, white wine or a light, fruity red, and you have the perfect meal for a cozy fall or winter evening. Whether you're having a small dinner party or a larger gathering, apple and pear soup is a dish that is sure to impress.
Quick and Easy to Prepare
Despite its fancy flavor, apple and pear soup is surprisingly easy to prepare. In fact, you can make a batch in under an hour, making it the perfect choice for a weeknight dinner or a last-minute meal.
Simply peel and chop your apples and pears, add them to a pot with some aromatics and broth, and let everything simmer until the fruit is soft and fragrant. Then, blend everything together until you have a smooth and creamy soup. It's that easy.
A Crowd-Pleasing Soup
Apple and pear soup is a soup that everyone can enjoy, from picky eaters to adventurous foodies. Its sweet and savory flavor profile appeals to a wide range of palates, making it a great choice for family dinners, potlucks, and other gatherings.
So, if you're looking to explore a new and delicious side of soup, give apple and pear soup a try. It's a comforting, flavorful, and satisfying soup that is sure to become a new favorite in your household.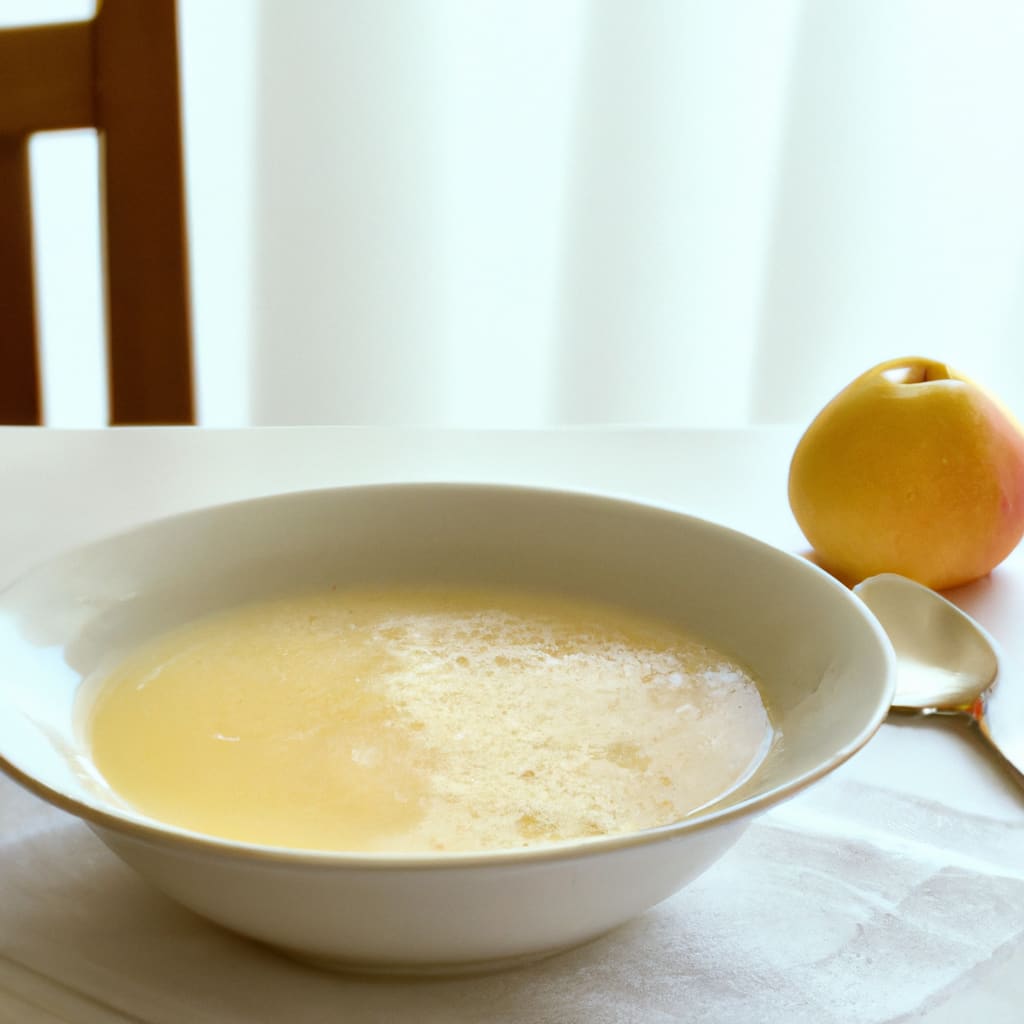 Ingredients
4 Apples
4 Pears
4 Cups of Water
1 Cinnamon Stick
1/2 Tsp Ginger
1/4 Tsp Nutmeg
1 Tbsp Honey
1/4 Cup Heavy Cream (optional)
Instructions
1. Peel, core, and chop the apples and pears.
2. Place the chopped apples and pears in a pot with 4 cups of water and the cinnamon stick.
3. Bring to a boil and then reduce heat to a simmer for 20-25 minutes, or until the fruit is soft.
4. Remove cinnamon stick and add ginger, nutmeg, and honey. Stir well.
5. Use an immersion blender or transfer mixture to a blender and puree until smooth.
6. Add heavy cream if desired and stir well.
7. Serve hot and enjoy!
Ask the Chef – Tips & Tricks
Select Ripe, Sweet Fruit:
Since this soup relies on fruits for its sweetness, choosing ripe and juicy apples and pears will ensure a delicious result.
Adjust Honey to Taste:
Start with 1 tbsp of honey, but feel free to adjust the sweetness to your liking by adding more if necessary.
Use Immersion Blender:
Using an immersion blender can make blending the soup much easier and prevent messes. If using a blender instead, be sure to blend in small batches and let the soup cool down before blending to prevent any accidents.
Add Cream for Creaminess:
The heavy cream is optional, but adds a silky, velvety texture to the soup. It can be omitted if you prefer a lighter soup or if you're lactose intolerant.
Garnish:
To add some visual appeal and extra flavor, consider garnishing the soup with a drizzle of heavy cream, a sprinkle of cinnamon, or a few apple or pear slices.
Refrigerate and Reheat:
Leftovers can be stored in an airtight container in the fridge for up to 3-4 days. Reheat on the stove on medium heat until heated through and enjoy!