Experience the Ultimate Comfort Food: Creamy Garlic Mushroom Pasta with Butter Sauce!
Indulge in the exquisite Creamy Garlic Mushroom Pasta with Butter Sauce, where tender mushrooms, garlic, and fragrant herbs meld together in a velvety bed of cream sauce. Tossed with al dente pasta, this comforting and savory dish is perfect for a cozy dinner party or a lazy weeknight meal. Made using simple yet high-quality ingredients, each bite of this pasta is a symphony of flavors and textures that satisfies both the body and soul. Whether you're a mushroom lover or a pasta aficionado, this dish is guaranteed to delight your taste buds and fill your heart with warmth.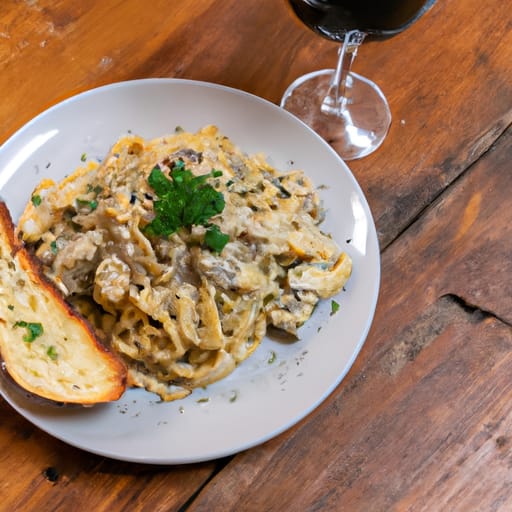 Ingredients
8 oz Linguine Pasta
1 Tbsp Butter
1 Tbsp Olive Oil
8 oz Mushrooms
2 Garlic Cloves
1/4 Tsp Red Pepper Flakes
1/3 Cup Chicken Broth
1/2 Cup Heavy Cream
1/4 Cup Parmesan Cheese
Salt and Pepper
Fresh Parsley
Instructions
Boil salted water in a large pot and cook linguine pasta according to the package instructions until al-dente. Reserve 1/2 cup of pasta cooking water and then drain the rest of the water.
In a skillet, heat butter and olive oil over medium heat until the butter has melted.
Add the mushrooms and sauté for 5-7 minutes or until tender.
Add the garlic and red pepper flakes and cook for an additional 30 seconds until fragrant.
Pour in the chicken broth and let it cook for a minute until reduced in half.
Pour in the heavy cream and stir to combine. Let it simmer for 2-3 minutes until the sauce has thickened a bit.
Gradually whisk in the parmesan cheese, salt, and pepper, and let it cook for an additional 2-3 minutes until the cheese is melted and the sauce is smooth and creamy.
Add the cooked pasta to the skillet, along with a splash of the reserved pasta cooking water.
Toss the pasta until it is well coated with the sauce and has slightly thickened. Add more reserved pasta cooking water if needed.
Garnish with fresh parsley and serve hot.
Number of Servings
Nutritional Information (per serving)
Calories: 806
Total Fat: 57g

Saturated Fat: 27g
Unsaturated Fat: 26g
Trans Fat: 1g

Cholesterol: 139mg
Sodium: 772mg
Total Carbohydrates: 52g
Dietary Fiber: 3g
Total Sugars: 3g
Added Sugars: 0g
Protein: 23g
Ask the Chef – Tips & Tricks
Salt the Pasta Water:
Salting the pasta water is a crucial step in this recipe to ensure the pasta has flavor. Add about a tablespoon of salt to the water before boiling the pasta.
Reserve Pasta Water:
Reserve some of the pasta cooking water before draining the pasta. This starchy water can help to loosen the sauce and add more moisture to the dish if needed.
Sauté Mushrooms:
Sauté mushrooms until they're golden and cooked through. This helps to develop their flavor and prevent them from releasing too much moisture into the sauce.
Reduce Chicken Broth:
Cooking chicken broth for a minute before adding the cream helps to reduce its amount and intensify its flavor.
Simmer the Sauce:
Simmer the cream sauce until it thickens and coats the back of a spoon. This will ensure that the sauce has a good consistency and clings to the pasta well.
Add Parmesan Cheese Gradually:
Gradually adding cheese to the cream sauce will prevent it from clumping. Whisk it in a little at a time until it is fully melted.
Adjust Seasoning:
Taste the sauce before adding the salt and pepper and adjust according to your preference. Add a pinch of extra salt or a dash more pepper if needed.
Use Fresh Parsley:
Fresh parsley adds a pop of color and freshness to the dish. Don't skip it, as it enhances the overall flavor and presentation of the pasta.