Discover the Unique Flavors of Miso Ginger Barramundi
Miso Ginger Barramundi, also known as Chef John's Miso Glazed Barramundi, is a savory and delicious seafood dish that is perfect for any occasion. This flavorful recipe features tender and juicy barramundi fish fillets that are glazed with a delicious miso and ginger sauce.
A Masterpiece of Culinary Fusion
Miso Ginger Barramundi is a masterpiece of culinary fusion that combines the best of Japanese and Asian flavors. The dish is made with miso paste, a traditional Japanese ingredient that lends its distinctive umami flavor to the dish. The addition of ginger gives the dish a spicy kick that perfectly complements the sweetness of the miso sauce.
The barramundi fish fillets are the perfect complement to this dish, as they are mild and flavorful. Barramundi has a meaty texture that is similar to sea bass, making it a great option for grilling or pan-searing.
Healthy and Nutritious
Barramundi is a great choice for those who are trying to eat healthier. It is a low-fat and high-protein fish that is rich in omega-3 fatty acids. This makes it a great option for those who want to maintain a healthy weight and reduce their risk of heart disease.
Miso is also a healthy ingredient, as it is packed with beneficial bacteria that can promote good gut health. It is also a great source of vitamin B12, as well as other essential vitamins and minerals.
Perfect for Any Occasion
Miso Ginger Barramundi is a versatile dish that is perfect for any occasion. It can be served as a main course for a special dinner party or as a light lunch or dinner option. The dish pairs perfectly with steamed rice, grilled vegetables, or an Asian-style slaw.
The unique and complex flavors of the dish also make it a great addition to any seafood-themed buffet or potluck. It is sure to impress your guests and become a favorite in your recipe collection.
Try It Today
Miso Ginger Barramundi is a unique and flavorful dish that is sure to satisfy your cravings for fish and Japanese flavors. Whether you're a fan of miso or ginger or simply looking for a healthy and delicious seafood option, this dish is perfect for you.
So, why not try it today? With its combination of savory and sweet flavors, it's sure to be a hit with your family and friends. Plus, its unique fusion of Asian flavors is sure to impress your taste buds and leave you wanting more.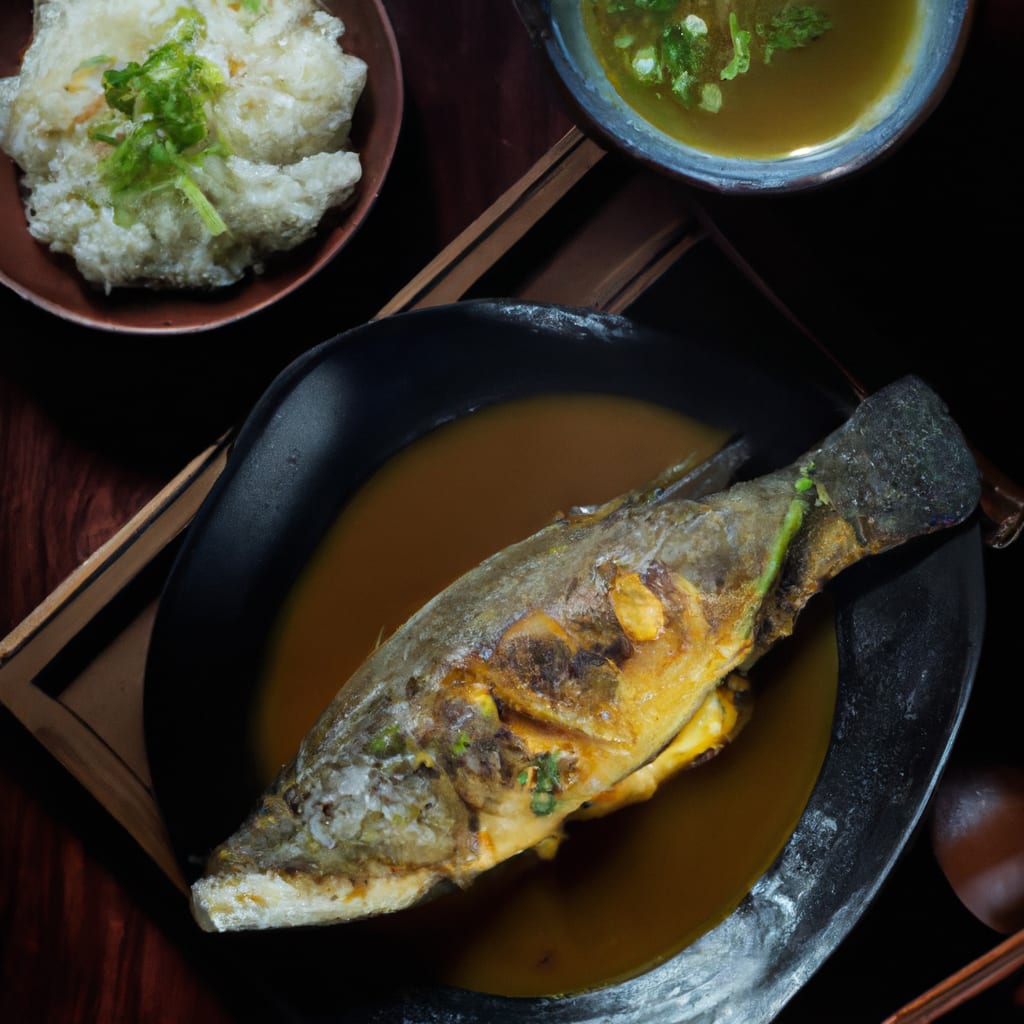 Ingredients
– Barramundi fillets
– Miso paste
– Fresh ginger root
– Mirin
– Sake
– Brown sugar
– Soy sauce
– Rice vinegar
– Green onions
– Sesame seeds
Instructions
1. Preheat the oven to 425°F.
2. In a blender, combine the miso paste, grated fresh ginger, mirin, sake, brown sugar, soy sauce, and rice vinegar. Blend until smooth.
3. Place the barramundi fillets in a baking dish and cover with the miso ginger glaze.
4. Bake the barramundi fillets in the preheated oven for 10-12 minutes, or until they are cooked through and the glaze is caramelized and lightly browned.
5. While the barramundi bakes, chop the green onions and sprinkle sesame seeds in a pan over low heat for 2-3 minutes or until golden brown.
6. Garnish the barramundi with green onions and sesame seeds before serving hot. Enjoy your miso ginger barramundi!
Ask the Chef – Tips & Tricks
Use Fresh Ingredients:
Since this recipe relies heavily on the flavors of miso paste, ginger, and soy sauce, using fresh ingredients is crucial. Be sure to use fresh ginger, as it has a stronger flavor than dried ginger and adds a zesty punch to the dish.
Don't Overcook the Barramundi:
Overcooking fish can make it dry and tough. Keep a close eye on the barramundi while it's baking to ensure it's cooked through but still tender and moist.
Use a Blender:
It's essential to blend the miso paste, ginger, mirin, sake, brown sugar, soy sauce, and rice vinegar until smooth. This will result in a perfectly textured glaze and prevent having any lumps or chunks.
Play with Garnishes:
Feel free to experiment with different garnishes to enhance the flavor and presentation of your dish. Sliced cucumbers, carrots, or bok choy can add a pop of color, and a sprinkle of sesame seeds can add extra crunch.
Use the Right Baking Dish:
Make sure you use an appropriately sized baking dish to prevent overcrowding the barramundi fillets, which can lead to uneven cooking and steaming rather than caramelizing.
Rest the Fish:
Letting the barramundi rest for 2-3 minutes after removing it from the oven will allow the fish to absorb the flavors of the sauce and become more tender and juicy.