Experience Mediterranean Delights with Classic Shrimp Scampi with Garlic Butter and Lemon!
Indulge in the tangy, aromatic flavors of Classic Shrimp Scampi with Garlic Butter and Lemon. This mouthwatering dish boasts plump, succulent shrimp, seared to perfection in a luscious blend of olive oil, fragrant garlic, and zesty lemon juice. The salty-sweet umami taste of the shrimp, perfectly complemented by the savory garlic and the bright citrus notes of the lemon, offers a truly irresistible combination that will leave your taste buds singing. Served over a bed of al dente linguine or with a side of crusty bread, this classic Italian-style dish is perfect for a luxurious dinner or a special occasion. Savor the taste of the Mediterranean and treat yourself to a delightful plate of Shrimp Scampi with Garlic Butter and Lemon!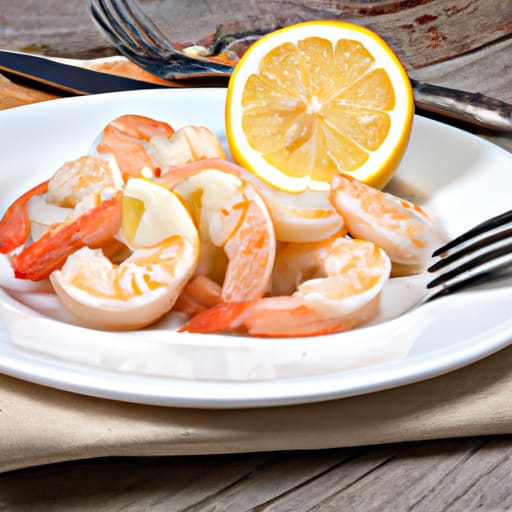 Ingredients
1 lb Linguine
5 Tbsp unsalted butter
5 Tbsp olive oil
4 cloves garlic, minced
1 1/2 lbs large shrimp, peeled and deveined
1/2 cup white wine
1 lemon, juiced
1/4 cup finely chopped parsley
Salt and black pepper to taste
Instructions
Cook the linguine according to package instructions until al dente. Drain and set aside.
In a large skillet, melt butter over medium heat. Add olive oil and garlic and cook for about 1-2 minutes until fragrant.
Add the shrimp to the skillet and toss to coat in the garlic butter. Cook for about 2-3 minutes until the shrimp turns pink.
Remove the shrimp from the skillet and set aside on a plate.
Add the white wine to the skillet and cook for about 2-3 minutes until it has reduced by half.
Add the lemon juice, chopped parsley, salt, and black pepper to the skillet. Stir with a spatula.
Add the cooked shrimp back into the skillet and toss together with the sauce.
Serve the shrimp scampi over the cooked linguine and enjoy!
Number of Servings
Nutritional Information (per serving)
Calories: 555
Total Fat: 23g

Saturated Fat: 8g
Unsaturated Fat: 13g
Trans Fat: 0g

Cholesterol: 330mg
Sodium: 595mg
Total Carbohydrates: 52g

Dietary Fiber: 3g
Total Sugars: 2g
Added Sugars: 0g

Protein: 28g
Ask the Chef – Tips & Tricks
Season the Pasta Water: Add 1-2 tablespoons of salt to a pot of boiling water before cooking the linguine. This will season the pasta and help bring out its natural flavor.
Dry the Shrimp: Make sure to pat the shrimp dry with paper towels before cooking. Excess moisture can cause the shrimp to steam instead of sauté and become rubbery.
Cook Shrimp in Batches: Depending on the size of your skillet, it may be necessary to cook the shrimp in batches. Overcrowding the pan can cause the shrimp to release moisture and become soggy.
Don't Overcook Shrimp: Shrimp cooks very quickly, so keep an eye on it and remove from heat as soon as it turns pink. Overcooked shrimp can become tough and rubbery.
Use a Lemon Zester: Consider using a lemon zester to add small pieces of lemon zest to the dish. This will give it an extra zing of flavor.
Garnish: Garnish the dish with additional parsley and lemon wedges for presentation.
Pairs well with: This dish pairs well with crusty bread or a side salad. You can also serve it with a light white wine such as Sauvignon Blanc, Pinot Grigio or Chardonnay to complement the flavors.
Summary
Recipe Name
Classic Garlic Butter Shrimp Scampi
Author Name
Published On
Preparation Time
Cook Time
Total Time
Average Rating
Based on 3 Review(s)