Savor the Flavors of Persia: Easy Kalam Polo Recipe for a Delicious and Nutritious Meal!
Treat yourself to a mouth-watering taste of Persia with Kalam Polo – a traditional Persian dish that combines the nutty fragrant rice with the crunchiness of cabbage and a touch of tangy spices. This easy-to-follow recipe for Kalam Polo yields a delightful aroma and a perfect balance of textures and flavors. Laced with saffron, turmeric and a hint of dried lime, this dish is not only bursting with vibrant hues, but also nutritious and wholesome. Whether served with a side of pickled vegetables and yogurt or enjoyed on its own, Kalam Polo is a versatile and satisfying dish that will transport your taste buds to the vibrant streets of Tehran with every bite. Try this recipe today and experience the rich culture of Persian cuisine for yourself!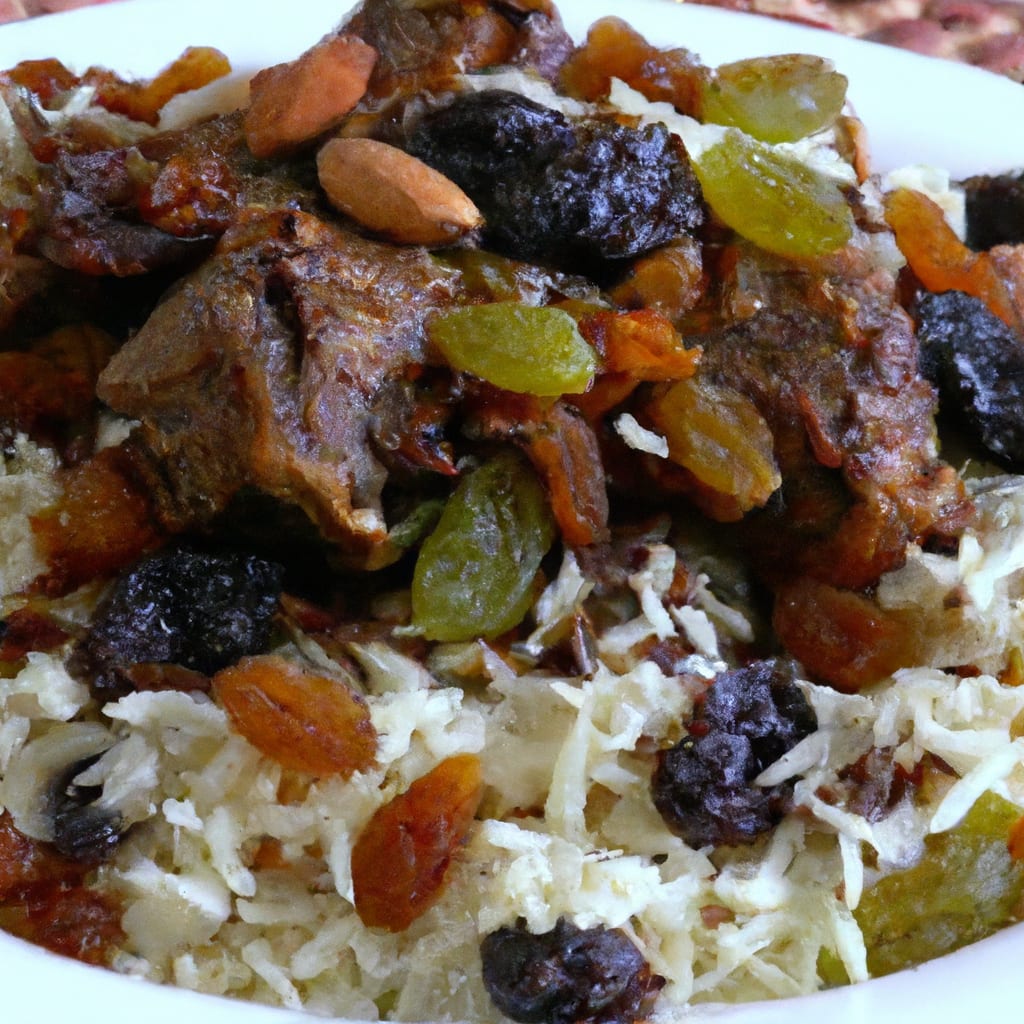 Ingredients
1 Small Cabbage
2 Cups Basmati Rice
1 Onion
1/2 Tsp Turmeric Powder
1/2 Tsp Cumin Powder
1/2 Tsp Cinnamon Powder
3 Tbsp Olive Oil
2 Tbsp Vegetable Oil
1/2 Cup Chopped Fresh Dill
1/2 Cup Chopped Fresh Parsley
Salt & Pepper To Taste
Instructions
Rinse and drain the rice in cold water for 1-2 hours.
Cut the cabbage in half and then chop it into bite-sized pieces.
Peel and finely chop the onion.
Heat 2 Tbsp vegetable oil in a large skillet over medium heat. Add chopped onion and sauté until golden brown, about 5-7 minutes.
Add the cabbage, turmeric powder, cumin powder, cinnamon powder, salt and pepper. Cook for 10-15 minutes or until cabbage is soft and tender.
Heat 3 Tbsp of olive oil over medium-high heat in a pot. Drain the rice and add it to the pot. Stir and cook for 2-3 minutes until the rice is lightly browned.
Cover the rice with 4 cups of boiling water and gently stir. Bring to a boil and then reduce the heat to low. Cover the pot with a lid and allow the rice to simmer for 10-15 minutes or until the water is absorbed and the rice is cooked.
Mix the cooked cabbage with fresh chopped dill and parsley.
Fluff the cooked rice and add half of the rice to a serving dish. Top with the cabbage mixture and then add the remaining rice on top.
Cover the dish with lid or aluminum foil and place it in a preheated oven at 350°F for 15-20 minutes to allow the flavors to meld.
Serve hot and enjoy!
Number of Servings
Nutritional Information (per serving)
Calories: 590
Total Fat: 18g

Saturated Fat: 3g
Unsaturated Fat: 13g
Trans Fat: 0g

Cholesterol: 0mg
Sodium: 426mg
Total Carbohydrates: 97g

Dietary Fiber: 7g
Total Sugars: 3g
Added Sugars: 0g

Protein: 10g
Ask the Chef – Tips & Tricks
Rinse the Rice: Rinse the rice thoroughly in cold water for 1-2 hours. This will help remove excess starch and ensure that the rice is fluffy and not sticky.
Brown the Rice: Before boiling the rice, lightly brown it in olive oil for 2-3 minutes, stirring frequently. This adds a nutty flavor to the rice and prevents it from becoming mushy.
Cut the Cabbage into Bite-Sized Pieces: Cut the cabbage into bite-sized pieces for even cooking and easy eating.
Use a Non-Stick Skillet: For the cabbage sautéing, use a non-stick skillet to prevent it from sticking to the pan.
Use Fresh Herbs: Fresh chopped dill and parsley add delicious flavor and freshness to this dish. If you don't have fresh herbs, you can use dried herbs as a substitute, but reduce the amount to about 1 tablespoon total.
Dress It Up: You can garnish the dish with some sautéed raisins or top it with some fried onions for more flavor and texture.
Adjust the Spices: Adjust the turmeric, cumin, cinnamon, salt, and pepper according to your taste preferences. Add more spices for a bolder flavor or reduce them if you prefer a milder taste.
Serve Hot: Serve the dish hot and fresh from the oven to fully enjoy its taste and texture.