Satisfy Your Sweet Tooth with Delicious Jelly Top Cookies
Looking for a sweet treat that will satisfy your cravings? Look no further than delicious and decadent jelly top cookies. Also known as jam-filled butter cookies, these sweet treats are sure to become your new go-to dessert.
A Classic Favorite
If you're a fan of classic desserts, you'll love jelly top cookies. These buttery cookies with a sweet jam or jelly filling are a timeless favorite that have been enjoyed by generation after generation. They're perfect for adding a touch of nostalgia to your dessert menu.
A Perfect Pairing
Jelly top cookies pair perfectly with your favorite hot beverages. Whether you prefer coffee, tea, or hot cocoa, these cookies are the perfect complement. They're also a great option for a sweet treat at the end of a meal or as an afternoon snack.
A Versatile Dessert
Jelly top cookies come in a variety of flavors and can be customized to fit your tastes. Whether you prefer a classic strawberry jam filling or something more exotic like mango or apricot, there's a flavor for everyone. You can also experiment with different kinds of jam, jelly, and preserves to create unique and delicious combinations.
What's more, you can use different cookie shapes and sizes to create even more variety. Heart-shaped cookies are perfect for Valentine's Day, while gingerbread men are a festive option for the holidays. You can also create bite-sized versions for a fun party snack or gift.
Made with Quality Ingredients
Jelly top cookies are made with high-quality, simple ingredients. The buttery cookie base is made with butter, flour, and sugar, while the jelly or jam filling is made with real fruit and sugar. This means you can feel good about indulging in these sweet treats, knowing that they're made with wholesome and delicious ingredients.
Perfect for Any Occasion
Whether you're looking to impress your guests at a dinner party or simply want to satisfy your sweet tooth, jelly top cookies are a great choice. They're easy to make and can be customized to fit any occasion. Best of all, they're delicious and always a hit with both kids and adults alike.
A Sweet Conclusion
From their classic flavor and versatility to their simple yet delicious ingredients, jelly top cookies are the perfect sweet treat for any occasion. So, why not give them a try and add some nostalgia and sweetness to your dessert menu?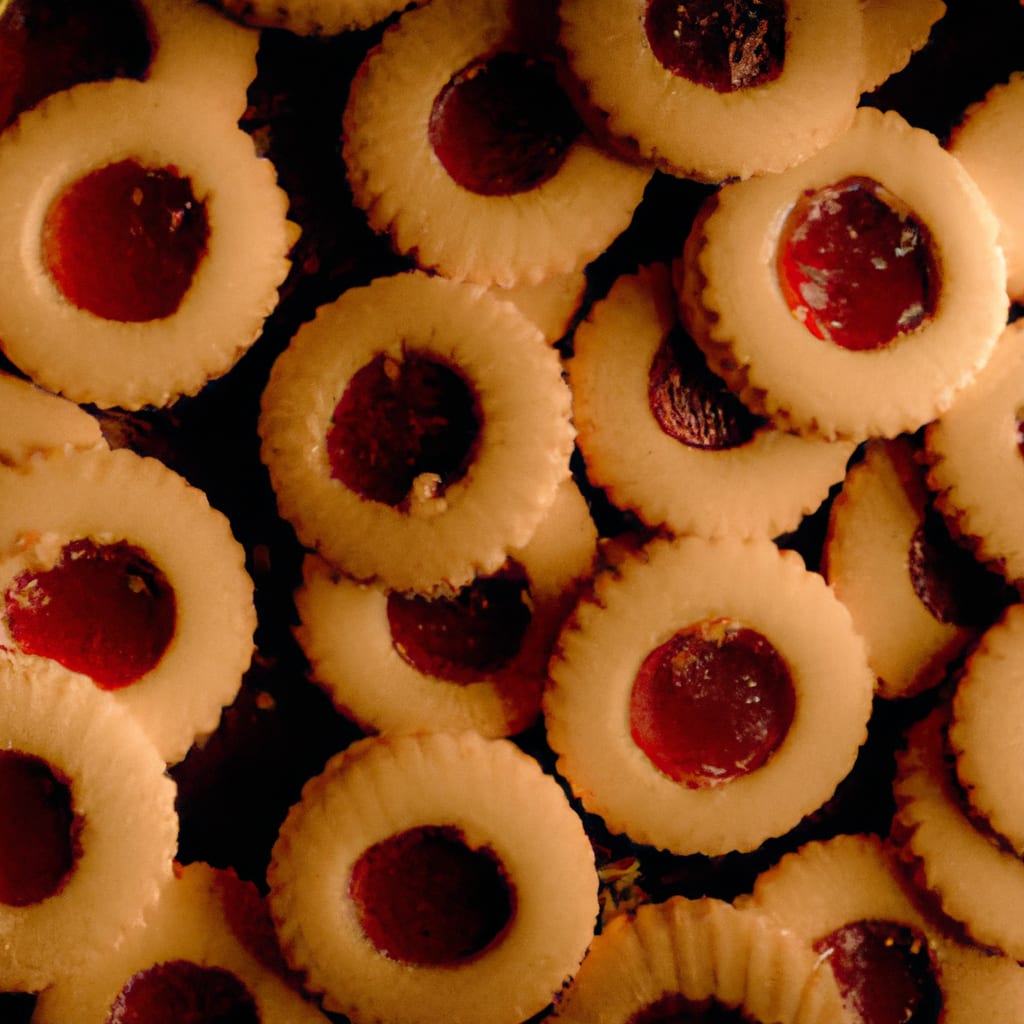 Ingredients
-1 cup unsalted butter (room temperature)
-2/3 cup granulated sugar
-1 large egg
-1 tsp vanilla extract
-1/4 tsp salt
-3 cups all-purpose flour
-1/2 cup fruit jam (your choice of flavor)
Instructions
1. Preheat oven to 375°F and line a baking sheet with parchment paper.
2. In a mixing bowl, cream together butter and sugar until smooth.
3. Add egg and mix until well combined. Add vanilla extract and mix again.
4. Add salt and flour gradually, stirring until a soft dough forms.
5. Divide the dough into small portions and flatten them slightly with your palms.
6. Using a cookie cutter or biscuit cutter, cut out the cookie dough to make rounds (or your preferred shape).
7. Use your thumb or a spoon to make a small indent in the center of each dough round.
8. Spoon a small amount of jam into each of the indents.
9. Make sure to not overfill the cookie with the jam.
10. Arrange the cookies onto the prepared baking sheet.
11. Bake for 15-20 minutes or until the edges appear lightly golden brown.
12. Remove from the oven and let the cookies cool on the tray for 5 minutes.
13. Transfer the cookies to a wire rack to cool completely.
14. Serve and enjoy!
Ask the Chef – Tips & Tricks
Chill Dough:
For neater and easier handling, it is recommended to chill the dough in the fridge for at least 30 minutes before rolling and cutting it. This will prevent the dough from sticking to your hands or the cutter.
Use High-Quality Jam:
The fruit jam adds flavor and texture to the cookies, so it is important to use high-quality jam to get the best result. You may also experiment with different types of jam to find your favorite taste.
Don't Overfill:
Be careful not to overfill the cookies with jam, or it will overflow and burn in the oven. Only a small amount (about 1/4 teaspoon) is required for each indent made in the dough.
Bake Time:
Keep an eye on the cookies while they bake and remove them from the oven when the edges start to turn golden brown. Overbaked cookies can become dry and hard.
Cool Completely:
These cookies can be fragile while they're still warm, so it's best to let them cool completely on a wire rack before handling or storing them.