Satisfy Your Seafood Cravings with Classic Steamed Mussels in Garlic White Wine Butter Broth.
Indulge in the famous sea-to-table taste of Classic Steamed Mussels. Served in a fragrant broth of garlic, white wine, and butter, these plump and juicy shellfish are a gourmet feast that takes just minutes to prepare. The aroma of the cooked mussels and the savory broth is irresistible and pairs perfectly with a crusty baguette to mop up every last drop of the delicious broth. Perfect as an appetizer or a main course, Classic Steamed Mussels are sure to impress your guests and satisfy any seafood cravings. Get ready to elevate your culinary skills and enjoy the taste of the ocean with this classic dish.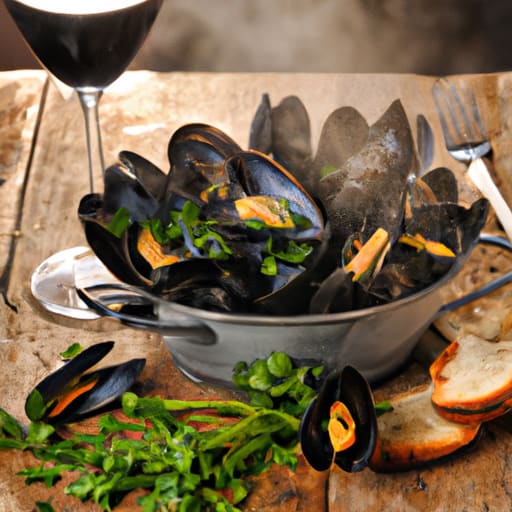 Ingredients
2 lbs. fresh mussels
2 Tbsp. unsalted butter
1/2 cup chopped shallots
4 garlic cloves, minced
3/4 cup white wine
3/4 cup chicken broth
1 Tbsp. fresh thyme leaves
2 Tbsp. fresh parsley, chopped
Salt and pepper, to taste
Instructions
Clean mussels well by removing the beards and cleaning the shells.
Discard any mussels that are open or cracked.
Heat butter in a large pot over medium heat.
Add chopped shallots and minced garlic, cook for 2-3 minutes until softened.
Add in white wine, chicken broth, and thyme.
Bring the liquid to a boil, then reduce heat to low and simmer.
Add mussels to the pot and cover with a tight-fitting lid, cook for 5-7 minutes.
Check the mussels with a slotted spoon to ensure they all have opened, discard any that remain closed.
Remove the pot from heat, sprinkle with chopped parsley, salt, and pepper.
Serve hot and enjoy!
Number of Servings
Nutritional Information (per serving)
Calories: 230
Total Fat: 7g

Saturated Fat: 3.5g
Unsaturated Fat: 2g
Trans Fat: 0g

Cholesterol: 55mg
Sodium: 520mg
Total Carbohydrates: 7g
Dietary Fiber: 0g
Total Sugars: 1g
Added Sugars: 0g
Protein: 23g
Ask the Chef – Tips & Tricks
Freshness is Key:
Freshness is vital when cooking mussels. Before cooking, ensure that all mussels are tightly closed and free from cracks. Live mussels will open quickly when they are agitated.
Clean Well:
Use a brush to scrub the outside of the mussel shells under cold running water. Remove the beard by using your fingers or a pair of pliers and gently pulling it out.
Discard Any Mussels Which Don't Open:
During cooking, it's crucial to discard any mussel that doesn't open. This is an indication that they were not alive before cooking and, therefore, not safe to eat.
Use a Tight Fit Lid:
Using a tight-fitting lid will help to steam the mussels evenly and ensure they fully cook, leading to an incredibly flavorful broth.
Wine and Broth:
The combination of white wine and chicken broth results in a light and flavorful broth that perfectly complements the mussels. However, feel free to experiment with other liquids like beer or vegetable broth.
Finish with Herbs:
Fresh herbs like thyme and parsley add brightness to the dish and help balance out the natural brininess of the mussels.
Serve with Crusty Bread:
Sop up the delicious broth with some crusty artisan bread. This will make sure you don't waste a single drop of the flavorful broth.