Cozy Up with Our Delicious Vegan Hearty Vegetable Ragout Recipe!
This Hearty Vegetable Ragout Recipe is the perfect comforting dish for those chilly nights. A savory mix of juicy tomatoes, tender carrots, protein-packed chickpeas, and nutrient-rich spinach, all simmered in a flavorful broth, this vegan-friendly recipe is as easy to prepare as it is delicious. Whether served on a bed of fluffy rice, with a side of crusty bread, or on its own, this ragout offers a satisfying texture and a bold burst of wholesome flavors. Whip up a big batch and enjoy the ultimate cozy-meal experience with Hearty Vegetable Ragout.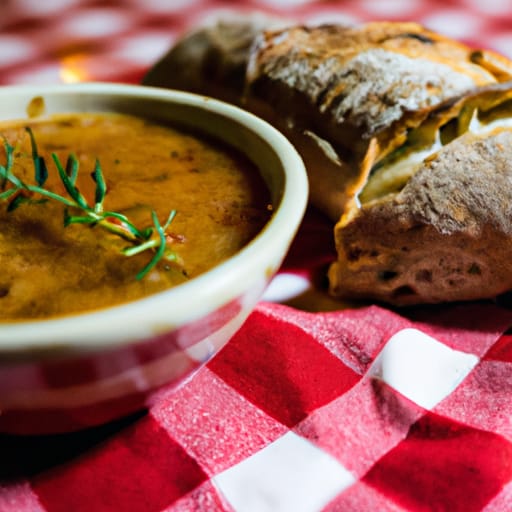 None
Number of Servings
Nutritional Information (per serving)
Calories: 334
Total Fat: 10g

Saturated Fat: 1g
Unsaturated Fat: 7g
Trans Fat: 0g

Cholesterol: 0mg
Sodium: 1187mg
Total Carbohydrates: 53g

Dietary Fiber: 15g
Total Sugars: 16g
Added Sugars: 1g

Protein: 14g
Ask the Chef – Tips & Tricks
Cutting Veggies:
Cut the vegetables into roughly the same size to ensure they cook at the same time. Also, chop the vegetables into bite-sized pieces to make sure they're easy to eat.
Sauté Onion and Garlic First:
Sautéing onions and garlic until they are softened and fragrant helps build the base of flavor for the dish.
Cook Veggies until Tender:
It's important to cook the vegetables until they are tender. This not only makes them more enjoyable to eat, but it also enhances the flavors.
Add Tomato Paste:
Adding tomato paste to the pot and cooking it for a couple of minutes will add rich umami flavors to the dish.
Don't Skip Sugar:
Adding a small amount of sugar helps to balance out the acidity of the crushed tomatoes.
Adjust the Broth:
If the ragout is too thick, you can add more vegetable broth. Conversely, if it's too thin, you can let it simmer for a bit longer to reduce and thicken it.
Serve with Bread:
Serving the ragout with some warm bread is a great way to sop up all the delicious sauce.
Leftovers:
This recipe makes great leftovers and can be stored in an airtight container in the fridge for up to 5 days. Reheat in a pot on the stove or in the microwave.