Tantalize Your Tastebuds with Red Wine Spaghetti and Tomato Garlic Sauce – A Mediterranean Twist on Classic Pasta Dish!
Indulge in the Mediterranean-inspired flavors of Red Wine Spaghetti with Tomato and Garlic Sauce. This sophisticated pasta dish showcases a harmonious blend of al dente spaghetti and a rich, tangy tomato and garlic sauce, heightened by the bold and fruity notes of red wine. With just a few simple pantry ingredients, this recipe delivers a satisfying, restaurant-quality meal in the comfort of your own home. Whether catering to a romantic dinner or a cozy family gathering, Red Wine Spaghetti with Tomato and Garlic Sauce is sure to delight your taste buds and leave you longing for more.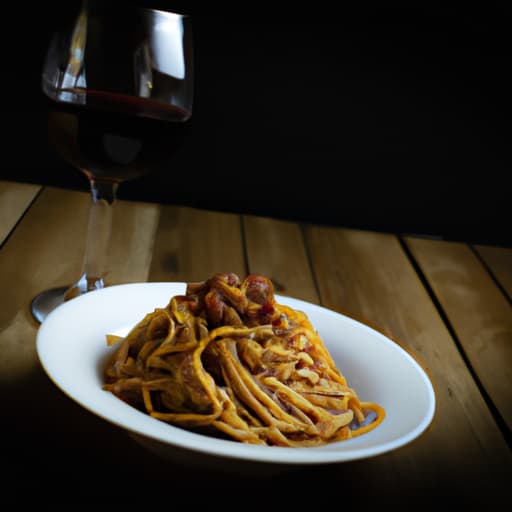 Ingredients
Spaghetti
Olive oil
Garlic cloves
Tomatoes
Red wine
Salt
Pepper
Dried oregano
Fresh basil leaves
Grated Parmesan cheese
Instructions
Cook spaghetti according to package instructions until al dente. Drain and set aside.
Heat olive oil in a large skillet over medium heat.
Add minced garlic and sauté for 1-2 minutes until fragrant.
Add chopped tomatoes to the skillet and cook for 5-7 minutes until they start to break down.
Add red wine, salt, pepper, and dried oregano and cook for another 5 minutes until the wine has reduced and thickened.
Add the cooked spaghetti to the sauce and toss to combine.
Serve hot with fresh basil leaves and grated Parmesan cheese on top.
Number of Servings
Nutritional Information (per serving)
Calories: 450
Total Fat: 10g

Saturated Fat: 2g
Unsaturated Fat: 5g
Trans Fat: 0g

Cholesterol: 5mg
Sodium: 450mg
Total Carbohydrates: 70g

Dietary Fiber: 6g
Total Sugars: 9g
Added Sugars: 0g

Protein: 14g
Ask the Chef – Tips & Tricks
Use Good Quality Red Wine:
The quality of the red wine you use will greatly affect the flavor of the dish. Choose a dry red wine that you would be happy to drink on its own.
Don't Overcook the Garlic:
Garlic burns easily, so be careful not to overcook it. Sautee for only 1-2 minutes until fragrant and lightly golden.
Use Ripe Tomatoes:
Ripe, juicy tomatoes will give the sauce the best flavor. If you can't find good fresh tomatoes, you can use canned tomatoes instead.
Season to Taste:
Taste the sauce as you go and adjust the seasoning as necessary. Add more salt, pepper, or dried oregano to taste.
Don't Overcook the Pasta:
Be sure to cook the spaghetti al dente, which means it should still be slightly firm when you bite into it. Overcooked pasta will become mushy and won't hold up well with the sauce.
Use Fresh Basil:
Fresh basil adds a great burst of flavor and a pop of color to the dish. Be sure to add it at the last minute, right before serving.
Serve with Parmesan Cheese:
A sprinkle of grated Parmesan cheese on top will add an extra layer of flavor to the dish. Use freshly grated cheese for the best taste.