Indulge in the Ultimate Steak Experience: Mushroom Sauce Steak Recipe That Wows!
Elevate your steak game with this indulgent Mushroom Sauce Steak Recipe. Juicy, tender, and loaded with umami flavor, this recipe features succulent strips of seared steak, paired with a rich and velvety mushroom sauce. The secret to the magical taste lies in the sauce, which is made with a hearty mix of cremini mushrooms, garlic, heavy cream, and a dash of red wine for a rich depth of flavor. Whether served over a bed of buttery mashed potatoes or beside a fresh and crunchy salad, this Mushroom Sauce Steak Recipe is the ultimate dining experience that will impress your guests and tantalize your taste buds.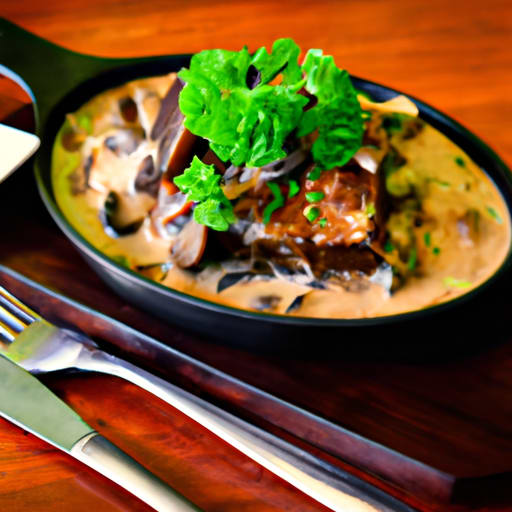 Ingredients
4 steaks
2 tbsp. olive oil
1 shallot, minced
6 oz. mushrooms, sliced
3 tbsp. unsalted butter
3 tbsp. all-purpose flour
2 tbsp. tomato paste
1 cup beef broth
1/4 cup dry red wine
1 tsp. Dijon mustard
Salt and pepper, to taste
Instructions
Season the four steaks on both sides with salt and pepper.
In a large skillet over medium heat, heat the olive oil.
Add the steaks and cook until browned, 4 to 6 minutes per side for medium-rare.
Remove the steaks from the pan and set aside.
In the same skillet, add minced shallot and sliced mushrooms and cook until the mushrooms release their liquid and are browned, about 5 minutes.
Add unsalted butter and all-purpose flour to the skillet and whisk together, scraping up any browned bits from the bottom of the pan and cook for 1 to 2 minutes, or until the flour begins to smell nutty.
Add tomato paste, beef broth, dry red wine, Dijon mustard, and a pinch of salt and pepper to the skillet and whisk together until smooth.
Bring the sauce to a simmer and continue to whisk gently for about 5 to 7 minutes, or until the sauce thickens into a gravy-like consistency.
Add the steaks back into the skillet and spoon the sauce over the steaks.
Simmer for another few minutes until the steaks are heated through and the sauce is thick and bubbly.
Serve hot and enjoy!
Number of Servings
Nutritional Information (per serving)
Calories: 500
Total Fat: 35g

Saturated Fat: 13g
Unsaturated Fat: 18g
Trans Fat: 1g

Cholesterol: 130mg
Sodium: 570mg
Total Carbohydrates: 9g

Dietary Fiber: 1g
Total Sugars: 3g
Added Sugars: 0g

Protein: 37g
Ask the Chef – Tips & Tricks
Let Your Steaks Rest:
Letting your steaks rest for 5-10 minutes before serving will allow the juices to redistribute within the meat and make for a more tender and juicy steak.
Sauté Mushrooms Properly:
Don't overcrowd the pan when sautéing mushrooms. Cook them in batches if necessary to avoid steaming instead of browning them. Season the mushrooms with salt at the end of cooking to prevent them from releasing too much liquid. Be sure to use a dry paper towel or clean kitchen towel to gently wipe any dirt off the mushrooms before slicing them.
Make a Smooth Sauce:
To prevent clumps or lumps in your sauce, make sure to whisk the flour and butter continuously and thoroughly into the shallot-mushroom mixture before adding any liquids. Also, gradually add the liquids, whisking until smooth each time.
Adjust Seasoning:
Taste your sauce and adjust the seasoning with salt and pepper as necessary. You may also consider adding a pinch of sugar to balance out the acidity of the tomato paste.
Wine Substitution:
If you don't have or don't want to use dry red wine, you can substitute with beef broth or red wine vinegar. Be sure to adjust salt and pepper as necessary if using vinegar instead of wine.
Serving Idea:
This mushroom sauce goes well with mashed potatoes, roasted vegetables, or a side of crusty bread.