Cook up a Rich and Creamy Garlic Mushroom Chicken for Your Next Dinner Party or Weeknight Indulgence.
Indulge in the rich and flavorful Creamy Garlic Mushroom Chicken recipe. This dish boasts tender chicken breasts smothered in a luscious cream sauce infused with garlic and loaded with robust mushrooms. With just a handful of ingredients, this simple yet elegant recipe is perfect for a quick weeknight dinner or a weekend dinner party. Pair it with your favorite pasta or carb of choice for a satisfying and filling meal that's sure to impress. Savor the decadent taste of Creamy Garlic Mushroom Chicken, and create a dinner to remember!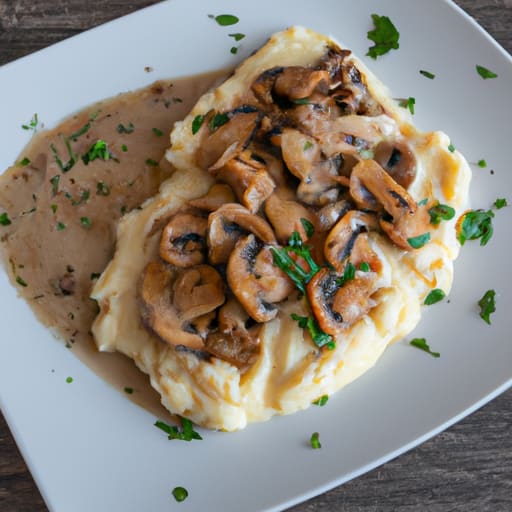 Ingredients
4 Chicken breasts
1 Tbsp Olive oil
2 Tbsp Butter
1 Onion, diced
1 Tbsp Garlic, minced
8 oz Mushrooms, sliced
1 Tbsp All-purpose flour
3/4 Cup Chicken broth
3/4 Cup Heavy cream
1/4 Cup Parmesan cheese, grated
1 Tbsp Fresh parsley, chopped
Salt and Black pepper, to taste
Instructions
Season chicken breasts with salt and black pepper on both sides.
Heat olive oil in a large skillet over medium-high heat. Add chicken breasts and cook until golden brown and cooked through, about 6-7 minutes per side.
Remove chicken from skillet and set aside.
In the same skillet, melt butter and add onions. Cook until softened, about 5 minutes.
Add minced garlic and sliced mushrooms. Season with salt and black pepper. Cook until mushrooms are browned and softened, about 7-8 minutes.
Sprinkle flour over the mushroom mixture and stir until well combined.
Pour chicken broth and heavy cream into the skillet and stir until the sauce thickens, about 2-3 minutes.
Add Parmesan cheese and chopped parsley to the skillet. Stir to combine.
Return the chicken to the skillet and coat it with the sauce.
Cover and simmer for 5-7 minutes or until the chicken is heated through and the sauce is thick and creamy.
Serve hot and garnish with additional chopped parsley, if desired.
Number of Servings
Nutritional Information (per serving)
Calories: 545
Total Fat: 34g

Saturated Fat: 17g
Unsaturated Fat: 13g
Trans Fat: 0g

Cholesterol: 200mg
Sodium: 535mg
Total Carbohydrates: 8g

Dietary Fiber: 1g
Total Sugars: 3g
Added Sugars: 0g

Protein: 52g
Ask the Chef – Tips & Tricks
Use Thin Chicken Breasts:
Thin chicken breasts will cook quickly and evenly which is essential in this recipe. You can buy thinly sliced chicken breasts or pound regular breasts to an even thickness.
Preheat Skillet:
Ensure that the skillet is preheated before adding chicken to it. A preheated skillet will help you achieve a beautiful golden brown color and prevent chicken from sticking to the skillet.
Don't Overcook Chicken:
Overcooked chicken will be dry and rubbery, so be sure to cook it just until it's no longer pink inside. To check for doneness, use a meat thermometer and ensure it reaches an internal temperature of 165°F.
Pat Mushrooms Dry:
Do not wash the mushrooms, instead, use a damp paper towel to gently wipe away any visible dirt or debris. Slice the mushrooms and then pat them dry with a paper towel before adding them to the skillet. This will help to achieve a better texture and prevent the mushrooms from becoming waterlogged.
Adjust the Consistency:
If your sauce is too thick, add a bit more chicken broth, and if the sauce is too thin, let it simmer for a little longer. Make sure to adjust the consistency to your liking before adding the chicken back into the skillet.
Add Lemon Juice:
Adding a squeeze of lemon juice or a splash of white wine will add a bright and acidic note to the dish, balancing out the richness of the sauce.
Customize It:
Don't be afraid to experiment with different herbs and spices. You can add some thyme, rosemary, or even smoked paprika for a smoky flavor. You can also swap out the chicken for pork or tofu to change up the protein source.
Serve With Your Favorite Side:
This dish goes great with pasta, rice, or on its own with a slice of crusty bread. You can decide your accompaniment based on your taste preference.