Indulge in Vibrant Flavors: Try This Healthy and Delicious Ratatouille Recipe!
Savor the unique and vibrant flavors of a Healthy and Delicious Ratatouille recipe. This classic French dish is a colorful blend of fresh veggies including tomatoes, bell peppers, zucchini, and eggplant, delicately cooked with herbs and spices to create a mouthwatering medley of flavors. Low in calories and high in nutrients, this dish is not only satisfying but also supply a range of vitamins including A, C, and K, as well as fiber and antioxidants. Serve it hot, steaming straight from the pot, or let it chill in the fridge for a refreshing summer meal. Wholesome cooking has never been more delicious with this Healthy and Delicious Ratatouille recipe!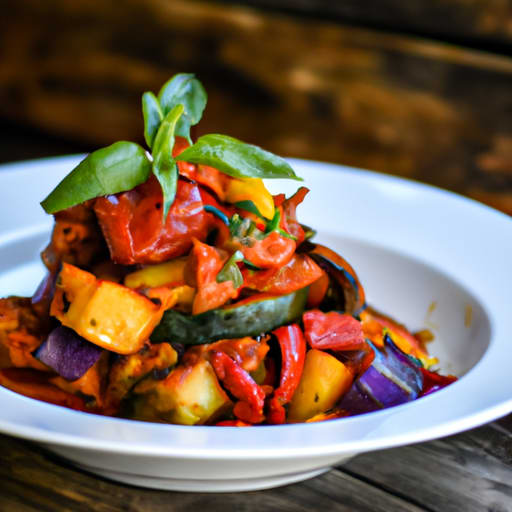 Ingredients
1 Large onion, diced
6 Garlic cloves, minced
2 Red bell peppers, diced
1 Large eggplant, diced
2 Medium zucchinis, sliced
4 Roma tomatoes, diced
2 Tbsp Olive oil
2 Tsp Herbes de Provence
1/4 Tsp Salt
1/4 Tsp Black pepper
Instructions
Preheat oven to 375°F
Heat olive oil in a large skillet over medium-high heat.
Add onions and garlic and cook until softened.
Add red bell peppers and eggplant and cook for 8-10 minutes.
Add zucchini and continue cooking for 5 minutes.
Add diced tomatoes, Herbes de Provence, salt, and pepper to the skillet. Stir everything well.
Transfer the mixture into a baking dish.
Cover the baking dish with aluminum foil.
Bake covered for 30 minutes.
Uncover the baking dish and bake for another 10-15 minutes until the vegetables are tender and the sauce has thickened.
Remove the dish from the oven and let it sit for 5 minutes.
Serve hot and enjoy!
Nutritional Information (per serving)
Calories: 163
Total Fat: 7g

Saturated Fat: 1g
Unsaturated Fat: 6g
Trans Fat: 0g

Cholesterol: 0mg
Sodium: 153mg
Total Carbohydrates: 26g

Dietary Fiber: 9g
Total Sugars: 13g
Added Sugars: 0g

Protein: 5g
Ask the Chef - Tips & Tricks
Cut the Vegetables in Uniform Size: Cut vegetables in uniform size to ensure they cook evenly and have a consistent texture. This also makes it more visually appealing.
Don't overcook: Be sure to not overcook the vegetables, or they'll turn to mush. Test them often with a fork, and remove them from heat when they're still slightly firm.
Use Fresh Herbes de Provence: Herbes de Provence is an herb mixture typically containing thyme, rosemary, oregano, and other herbs. Be sure to use fresh herbs de Provence and not the pre-made blends, which often contain dry and stale ingredients.
Adjust Seasoning: Always taste and adjust the seasoning as needed before baking. Add more salt or pepper if it needs it.
Choose Ripe Tomatoes: The quality of tomatoes makes a big difference, try to find ripe and juicy tomatoes for the recipe.
Storing Ratatouille: Ratatouille is great for meal prepping. Stored in an airtight container, it will keep in the refrigerator for up to four days or freeze for up to three months. Be sure to reheat before eating.