Upgrade your classic zucchini bread to a tangy and tart Citrus Cranberry Zucchini Bread with Orange. Bursting with fresh grated zucchini, juicy cranberries, and zesty orange zest, this moist and flavorful bread is perfect for breakfast, snack, or even dessert. The addition of citrus brings a refreshing and bright twist to the traditional loaf, while also boosting your immune system with vitamin C. Enjoy a slice or two of this fragrant and decadent bread, either on its own or slathered generously with butter or cream cheese. Give your taste buds a sweet and savory treat with Citrus Cranberry Zucchini Bread with Orange!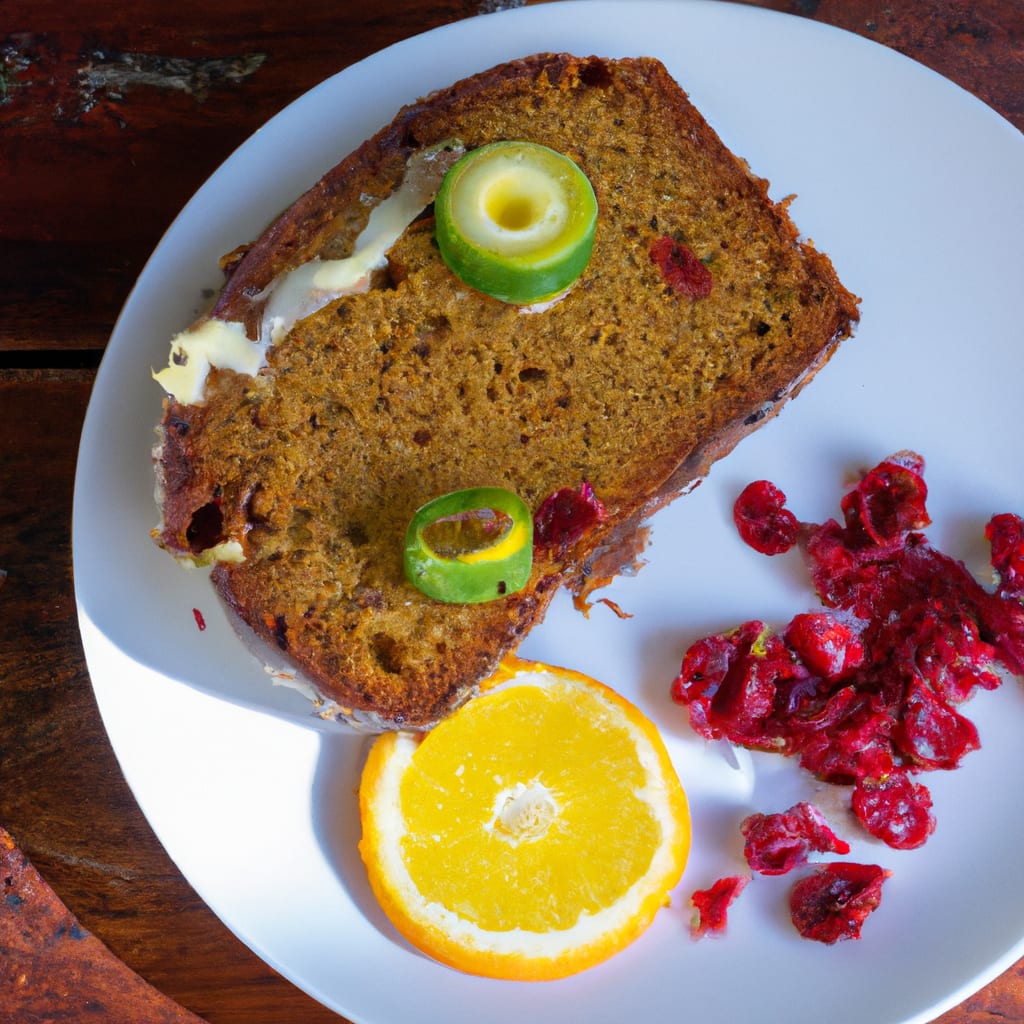 Ingredients
1¾ Cups All-Purpose Flour
1 Tsp Baking Soda
1 Tsp Ground Cinnamon
1 Tsp Salt
½ Tsp Baking Powder
2 Large Eggs
1 Cup Sugar
zest of 1 large Orange
½ Cup Orange Juice (freshly squeezed)
½ Cup Vegetable Oil
1 Tsp Vanilla Extract
1½ Cups Grated Zucchini (1 large Zucchini)
1 Cup Dried Cranberries
Instructions
Preheat the oven to 350°F and grease a 9×5-inch loaf pan.
In a medium-sized bowl, whisk together the flour, baking soda, ground cinnamon, salt, and baking powder.
In a large bowl, beat the eggs until they lighten in color. Mix in the sugar, orange zest, orange juice, vegetable oil, and vanilla extract until well-combined.
Mix in the grated zucchini until just combined.
Add the dry ingredients into the wet ingredients gradually, mixing after each addition, until they're just combined.
Pour in the dried cranberries and gently stir them into the batter.
Pour the batter into the greased loaf pan.
Bake in preheated oven for 50-60 minutes or until a toothpick inserted in the center comes out clean.
Allow the bread to cool in the loaf pan on a rack for 15 minutes before removing it from the pan and placing it directly on the rack to cool completely.
Once cooled, slice and serve. Enjoy!
Number of Servings
Nutritional Information (per serving)
Calories: 400
Total Fat: 17g

Saturated Fat: 2g
Unsaturated Fat: 13g
Trans Fat: 0g

Cholesterol: 47mg
Sodium: 557mg
Total Carbohydrates: 60g
Dietary Fiber: 2g
Total Sugars: 35g
Added Sugars: 0g
Protein: 5g
Ask the Chef – Tips & Tricks
Grate the zucchini finely:
The finer the zucchini is grated, the more evenly it will distribute in the bread and the better the texture will be. You can use a box grater or a food processor with a grating blade.
Do not overmix:
Overmixing the batter can lead to a tough and dense texture. Mix the batter until the dry ingredients are just combined with the wet ingredients.
Use freshly squeezed orange juice:
Freshly squeezed orange juice will give the bread a brighter, fresher citrus flavor than pre-packaged orange juice.
Cool completely:
Letting the bread cool completely before slicing will make it easier to slice and prevent it from falling apart or becoming gummy.
Variations:
Consider adding nuts or chocolate chips to the batter for extra texture and flavor. You could also swap out the cranberries for raisins or other dried fruit.
Storing:
This bread will keep for up to 3 days at room temperature if kept in an airtight container or wrapped tightly in plastic wrap. It can also be frozen for up to 3 months if wrapped well in plastic wrap and stored in an airtight container. Thaw at room temperature before serving.
Number of Servings
Nutritional Information (per serving)
Calories: 400
Total Fat: 17g

Saturated Fat: 2g
Unsaturated Fat: 13g
Trans Fat: 0g

Cholesterol: 47mg
Sodium: 557mg
Total Carbohydrates: 60g
Dietary Fiber: 2g
Total Sugars: 35g
Added Sugars: 0g
Protein: 5g